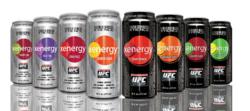 Las Vegas, NV (PRWEB) June 27, 2011
XYIENCE, the maker of Xenergy, the official energy drink of the UFC, announces that Elibet Gomez, wife of Marine Gunnery Sgt. Gomez, of San Diego, Calif. is the winner of its Miramar Summer Sweepstakes held at three retail locations on the Marine Corps Air Station (MCAS) Miramar Base in San Diego. Gomez receives hotel accommodations and a pair of tickets to the upcoming UFC 132: Cruz vs. Faber – that's July 2 at Las Vegas' MGM Grand. In addition, Gomez and her guest will also attend XYIENCE's pre-fight party event.
This will be Gomez's first time attending a UFC fight. "This is going to be a very memorable, best Fourth of July," says Gomez, whose husband is currently deployed in Okinawa, Japan; her cousin will be accompanying her to Las Vegas. "I can't believe I'm going to see the UFC in person. Thank you XYIENCE for making a dream a reality!"
Gomez's name was selected at random: There was no purchase necessary to enter the text message-based contest that ran May 1 – June 15, 2011.
"Whenever we bring our athletes to the base, the reception is always incredible – it's clear that Miramar loves MMA and XYIENCE," says Reuben Rios, XYIENCE's vice president of sales. "Sweepstakes like this are XYIENCE's way to show its gratitude to the dedicated men and women at Miramar."
About XYIENCE (pronounced zy-ince)
Headquartered in Las Vegas, XYIENCE products support an active and healthy lifestyle and are held to the most stringent standards of excellence. Visit http://www.xyience.com for details.
Xenergy (pronounced zen-ergy)
Xenergy is the official energy drink of the Ultimate Fighting Championship (UFC) and is one of the fastest growing brands in its category. The first energy drink created by a nutrition company, Xenergy is a sugar- and calorie-free drink that's fortified with vitamins. All-natural flavors provide a consistent supply of energy, without the "crash" inherent in most other energy drink brands. Xenergy Premium flavors include Cherry Lime, Cran Razz, Mango Guava and Blu Pom. Xenergy Xtreme flavors include Fruit Punch, Orange Fuel, Citrus Slam, and Cherry Rush. Xenergy is available throughout the United States and Canada.
XYIENCE is the official energy drink of the Ultimate Fighting Championship (UFC). Xenergy, is one of the fastest-growing in its category. XYIENCE also produces supplements that provide ultimate nutrition for peak performance.
###