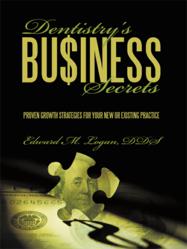 "Dentistry's Business Secrets by Dr. Edward Logan is a gift to dentistry. If you are a struggling or brand new practice, this book just might be the inspiration you need to help turn things around!"
(PRWEB) June 29, 2011
Whether you are a young dentist opening your first dental practice or an experienced dentist wishing to maximize your profitability, Dr. Edward Logan's new dental practice management book, Dentistry's Business Secrets: Proven Growth Strategies for Your New or Existing Practice, will help you achieve your goals. Summarizing nearly two decades of experience building three successful dental practices from scratch, Dr. Logan's 460 page book outlines a complete template for success. This massive resource covers a wide range of topics including choosing a perfect location, hiring an ideal dental staff, maximizing profits through accurately calculating patient co-pays and managing dental insurance, treatment planning for case acceptance, becoming an optimally efficient clinician, saving for retirement, reducing overhead, optimizing a dental practice website and exploiting the vast resources of the Internet to powerfully market a dental practice.
While Dr. Logan's dental school education prepared him well for clinical dentistry, after graduating he found that he needed to seek further instruction on the business side of dentistry. Dr. Logan attended countless seminars, read dozens of dental practice management and marketing books and networked closely with other dental professionals to learn the intricacies of running a successful dental practice. Through the opening of three scratch dental practices, Dr. Logan has had the opportunity to learn by experience what techniques work and what techniques fail to bring about dental practice growth and personal fulfillment. His book outlines more than just dental practice management and marketing strategies. Dr. Logan personally shares strategies he has learned to avoid professional burnout and create a deeply fulfilling work life while saving the time and financial resources necessary for a rewarding personal life.
Leaders throughout the dental industry are providing rave reviews of Dentistry's Business Secrets.
Founder and CEO of DentalTown Magazine and DentalTown.com, Dr. Howard Farran states:
"Dentistry's Business Secrets by Dr. Ed Logan is a gift to dentistry. If you are a struggling or brand new practice, this book just might be the inspiration you need to help turn things around!"
Bill Bender, a well known CPA who works exclusively with dentists, says:
"Dr. Logan has written a cookbook that should be mandatory reading for all fourth year dental students. It would also serve as a great resource for those who have been in practice, no matter the length of time. This book covers every topic of concern to a dentist and almost nothing covered in the book is taught in dental school. Kudos to Dr. Logan."
Matthew Horne, a practicing dentist in Austin, TX states:
"This is a must read for every dentist, no matter where you are in your career! Dr. Logan relates the principles of profitability that create successful dental practices in a very systematic approach, all the while showing you how to avoid the costly mistakes that so many dentists have endured."
Dentistry's Business Secrets: Proven Growth Strategies for Your New or Existing Practice is now available through the Dentistry's Business Secrets' website. A dental practice management resource CD with over 25 documents is also available for purchase. The resources on this CD were developed by Dr. Logan and his staff in order to enhance patient communication, marketing and day to day business operations. The Dentistry's Business Secrets' Practice Management CD includes new patient forms and letters, marketing checklists, a dental insurance verification checklist, employee interview and reference questions, as well as new patient marketing samples.
Company Information:
Dr. Edward Logan is a general and cosmetic dentist practicing in O'Fallon, Missouri. Dr. Logan graduated from the University of Washington School of Dentistry in 1993 and has since built three successful practices from scratch, one in Southern California and two in the Midwest. After years of learning the business side of dentistry, Dr. Logan decided to write a book to share his knowledge with other dentists who are just starting new practices or desiring to increase their current productivity. Dentistry's Business Secrets: Proven Growth Strategies for Your New or Existing Practice was published in February, 2011. Dr. Logan is also the owner of an online dentist directory.
###