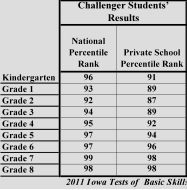 Challenger School uses conceptual teaching methods, so students learn not just facts, but critical thinking and reasoning skills. With this foundation, our students naturally flourish in all areas. -Barbara Baker, CEO and Founder of Challenger School
Sandy, UT (PRWEB) June 29, 2011
Challenger School, an independent private school that delivers preschool through eighth grade programs to more than 10,000 students annually, announces its highest standardized test results yet.
On the 2011 Iowa Tests of Basic Skills (ITBS), a national standardized test, Challenger kindergartners' average percentile rank was 96, and eighth grade students' average rank was 98. That means that Challenger's average kindergartner outscored 96 of 100 of ITBS test takers at her grade level—and that Challenger's average eighth grader outscored 98 of 100.
While this is Challenger students' highest scoring year yet, it is not an aberration. "Challenger students have always performed extraordinarily well on national standardized tests, consistently averaging in the top 10 percent nationally. We're proud of that record and are committed to maintaining it," said Barbara Baker, Founder and CEO of Challenger School.
See the included image for Challenger grade-level results compared to all test takers (National Percentile Rank), and to the subset of private school test takers (National Private School Percentile Rank).
When compared only with the national private school subset, Challenger students' scores are impressive against an expected high achievement group.
Challenger students decisively outscore both groups. The chart illustrates that the longer a student studies at Challenger School, the further she moves ahead of both her public and private school counterparts.
Challenger helps students earn impressive results by starting early and starting right—by teaching preschoolers to read with phonics, during the prime time for learning to read, thus setting a foundation that allows students to successfully pursue any course of study they choose.
"Standardized tests largely measure concrete skills. Challenger School uses conceptual teaching methods, so students learn not just facts, but critical thinking and reasoning skills. With this foundation, our students naturally flourish in all areas," said Baker.
Challenger accepts neither government monies nor private donations. It is an independent, private school founded in 1963. It now has 22 campuses in California, Idaho, Nevada, Texas, and Utah, with corporate offices in Sandy, Utah. Challenger offers preschool through eighth grade programs, and in addition to its academic foundation, emphasizes individual liberty as described in America's founding documents.
# # #