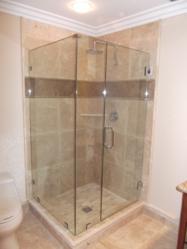 I'm so glad I bought ShowerGuard Glass. We've had our new shower enclosure over a month now, and still not a single drop of water shows up on it once it's dry. Just a quick squeegee and it's beautiful, clear and clean.... I would recommend it to everyone!
San Diego, CA (PRWEB) June 29, 2011
Star Glass San Diego is seeing an increase in demand for ShowerGuard shower enclosures in the San Diego County. That's no surprise, considering the housing market this time of year is just right for real estate agents. More and more real estate agents are buying "fixer upper" houses, remodeling them, and either selling them at a great price, or renting them. Whether it's flipping real estate as a business venture or simply to increase the property value of a house, Star Glass San Diego can help.
So, what's the big deal about ShowerGuard on your shower enclosures, offered by Star Glass San Diego? Unlike spray-on or wipe-on treatments that eventually wear off, the protection provided by ShowerGuard glass is part of the glass itself, so it never needs to be reapplied. Not to mention the 10 year manufacturer's warranty and the value it adds to any house. The secret of ShowerGuard is that it fixes the problem of hard water spots from the beginning. When clear glass is examined under a microscope, it is easy to see that normal clear glass is porous. This gives hard water, residue, and scum something to hang on to and get trapped inside of – making normal clear glass almost impossible to keep clean. Over time, the glass can appear dirty – no matter how often it is cleaned. ShowerGuard eliminates the pores by filling them up. It's that simple, ShowerGuard Glass stops corrosion before it starts.
The price for ShowerGuard is approximately 30-40% more than a regular clear glass shower enclosure, but it adds value to a homeowners house at about 2-3 times its worth. Any homeowner or real estate agent can quickly see that the investment made with ShowerGuard Glass installed by Star Glass San Diego has its clear advantages, but what about those people who want more than just Clear ShowerGuard? Star Glass San Diego also offers Satin Deco (Acid Etched glass with ShowerGuard) and Ultra White ShowerGuard (Starphire glass with ShowerGuard). When using Satin Deco ShowerGuard, privacy is immediately given to the shower enclosure, with a top of the line modern touch. While, homeowners that want a true clear glass look, Ultra White ShowerGuard is the best choice, as it has most of its iron removed, creating a water clear edge, unlike the green tinted edges from normal clear glass and Clear ShowerGuard.
Star Glass San Diego and ShowerGuard Products are here to help. Call (619) 246-1276, to get a free estimate on shower enclosure. Don't forget to ask for any ShowerGuard special, and which type of ShowerGuard is right for you.
###