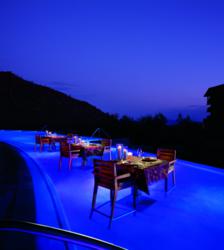 Marana, AZ (PRWEB) June 29, 2011
Diners are in for an exhilarating new experience at The Ritz-Carlton, Dove Mountain this summer, as Splash Dining introduces a new in-the-pool dinner setting with the legs of diners, servers, chairs and tables refreshingly immersed for the cooling culinary occasion.
Whetting the appetites of travelers for unique outdoor experiences, Splash Dining expands upon the popular water recreation offering of The Ritz-Carlton, Dove Mountain, which features multiple swimming pools, a 235-foot-long water slide, weekend Cosmic Slide parties, and a spa serenity pool complete with full-service cabanas and a mid-pool tanning island.
Splash Diners at The Ritz-Carlton, Dove Mountain are seated at tables placed into the waters of romantic, night-lighted Turquesa Pool. They check their shoes upon arrival and are invited to wear shorts or knee-length pants for the special occasion, which begins as they wade to their reserved seats partially submerged in the pool. A customized meal prepared by the chefs of The Ritz-Carlton is then served by a wading server team, with dessert personally delivered by a chef wearing the aquatic version of chef's whites.
A once-in-a-lifetime resort experience, Splash Dining offers a pre-reservable three-course menu including champagne toast and is priced at $300 per couple. For reservations, please contact The Ritz-Carlton, Dove Mountain at 520-572-3000.
About The Ritz-Carlton, Dove Mountain
Nestled in the high Sonoran Desert, The Ritz-Carlton, Dove Mountain is an invigorating playground where the adventurous can explore the lush desert along the Tortolitas Mountains and their majestic Saguaro forest. The Ritz-Carlton, Dove Mountain features a 253-room resort, Jack Nicklaus Signature Golf Course, destination spa and luxury homes at The Residences on 850 acres. The property also features adventure programming, world-class hiking, and is host to the WGC-Accenture Match Play Championships in its striking canyon setting. This is a place where adventure and a gracious spirit of hospitality come to life. For reservation information, please call (800) 241-3333, visit http://www.ritzcarlton.com/dovemountain or contact a travel professional.
###