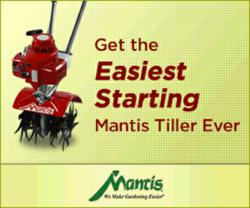 (PRWEB) June 28, 2011
Mantis has more than 30 years of experience in the gardening and landscaping fields. The company is best-known for its original Manits Tiller. The original tiller model weighed only 20 pounds, was easily maneuverable and had an unusual tine arrangement. Senior citizens and women made the tiller into a bestselling yard implement.
Mantis currently offers composters, garden tools and yard care products in addition to their original tiller. All of Mantis' tools are designed to be easily operated by people who may lack stamina or strength. The company is known for its dedicated customer service, reliable tools and strong support of its products.
The Mantis Tiller line now includes 2-cycle, 4-cycle, and electric models. All of the Mantis tillers have proprietary serpentine tines to break up compacted soil, sod and tough plant roots. The tillers even have enough power to churn through harder soils like clay or frozen dirt. The Mantis 2-Cycle Tiller includes Mantis' FastStart technology for reliable ignitions, and users can begin tilling with a single press of a button.
The company's newest tiller release is the Mantis XP 16" model. The XP uses a 4-cycle engine and has a tilling width of 16 inches. Although the XP has the largest engine of any Mantis tiller, it weighs only 34 pounds. It does not require any mixing of gasoline and oil to run, has variable speed controls and uses a one-piece gearbox for increased durability.
Composting attracts helpful creatures like earthworms, creates enriched soil and recycles scraps from the garden or kitchen. The Mantis ComposT-Twin includes a 2-Bin Chamber design for new compost and cooked compost. Because the unit is fully enclosed, odors are sealed inside of the ComposT-Twin. A single ComposT-Twin can store nearly 25 cubic feet of compost.
Mantis manufactures moisture meters, sifting screens and thermometers for homeowners who want to adjust the quality of their compost. A box of Compost Plus Activator can hasten the composting process for first-time buyers of the ComposT-Twin.
Mantis also manufactures a number of yard care tools including hedge trimmers, log splitters and the E-System. The E-System is a powered tool with multiple attachments. A homeowner can edge, hedge trim, line trim and prune using only the E-System. Arm extensions and long cords allow users to reach up into roof gutters or treetops.
MyReviewsNow and Mantis Garden Tools are celebrating their new affiliation by offering free shipping on every product in the Mantis catalog. Every item can be shipped straight to a customer's doorstep, and it will be ready to run as soon as it is removed from the box.
All Mantis tillers are protected by a five-year warranty for defects in materials or workmanship. The serpentine tines have a lifetime warranty, and Mantis promises to replace the tines if they ever break. Mantis' other products have a two-year warranty for defects in materials or workmanship. If a part breaks or fails to work, Mantis will repair or replace the part for no charge.
Mantis offers a money-back guarantee for one year on every product. If customers are not satisfied with their Mantis product, they can send it back for a full refund.
###