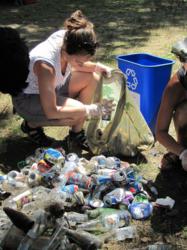 By choosing the exact beach cleanup or waterway cleanup that their purchase supports, customers can choose to clean up an area that matters most to them while getting something like a sweet new United By Blue organic t-shirt in return" Brian Linton
Philadelphia, PA (PRWEB) June 28, 2011
United By Blue (UBB), the leader in ocean-friendly fashion, is making environmental activism an easy option for online shoppers.
Through the sale of their jewelry, organic cotton t-shirts, and canvas bags, UBB is able to organize and host beach and waterway cleanups in communities across the country. Empowering their customers to do environmental good with their purchase is a powerful promise, and enabling them to choose the specific location that will be connected to their purchase is the next step toward making the environmental action as tangible as possible.
"United By Blue's new website allows all our customers to be part of our mission. By choosing the exact beach cleanup or waterway cleanup that their purchase supports, customers can choose to clean up an area that matters most to them while getting something like a sweet new United By Blue organic t-shirt in return," states Brian Linton, UBB's founder and Chief Trash Collector.
Just as shoppers normally must choose a garment's size and color when buying apparel online, shoppers on UBB's website also get to choose a cleanup their purchase will support. The cleanups that shoppers are supporting with their purchases are company organized and hosted beach and waterway cleanups across the country. Of particular interest to many shoppers, many of these cleanups only take place if a predetermined amount of product is sold and applied to the cleanup effort. A cleanup often needs between 200 and 600 product sales to be fully supported.
"We would love to host cleanups in Mexico City, the Bahamas, and the Gulf of Mexico as these locations are ones that resonate not just with local communities, but with the international community as a whole. When our customers choose to cleanup trash from a location like this, they're helping us clean up areas that we wouldn't otherwise be able to," says Linton.
After customers assign their United By Blue purchase to support a specific cleanup, UBB helps the customer stay engaged in the cleanup by inviting them to participate and by enabling them to see the results of the cleanup that their purchase supported through post-cleanup videos and photos.
UBB's product line includes organic t-shirts with environmentally inspired screen-printed graphics, organic canvas bags, and silver jewelry. By associating the sale of each product with the concrete environmental action of removing one pound of trash from oceans and waterways, the company is able to help mitigate and raise awareness for the ocean pollution problem. Over 14 billion pounds of man-made waste are dumped into oceans and rivers around the world every year.
Since opening up for business in May 2010, UBB has removed over 25,000 pounds of trash. The company is on track to meet their goal of removing 100,000 pounds of trash by the end of 2011 and one million pounds by the end of 2012.
About United By Blue
United By Blue (http://unitedbyblue.com) is a brand of ocean-friendly apparel brand that, for every product sold, removes one pound of trash from oceans and waterways through company organized cleanups. The company is based in Philadelphia and has hosted over 40 cleanups in the region and around the country since it was founded in May 2010. United By Blue is dedicated to using business to enact real change in the world.
###