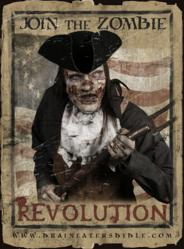 There has never been a better time to be a zombie
Los Angeles, CA (PRWEB) June 28, 2011
The undead will be high-fiving at their brain barbeques this weekend knowing that a "made for zombies" iPad app will now be available for free. In early July, "Brain Eater's Bible Lite" will be unveiled in the iTunes App Store, and the full version of the app will be reduced in price to $4.99 until July 10th.
"There has never been a better time to be a zombie," says Pat Kilbane, the app's author, "Many 'zombie walks' this summer have doubled in attendance since last year; people seem to be abandoning the idea of surviving a zombie apocalypse in favor of joining the shambling hordes." That's where The Brain Eater's Bible comes in; it's a guidebook - supposedly written by a zombie - that teaches the undead how to make it in a post-apocalyptic world. Since its launch in April, it has garnered rave reviews in the horror blogosphere.
"We chose July 4th for this launch because being undead is very much about independence," Kilbane explains, "and J.D. McGhoul, the fictional zombie author, sees himself as leading a revolution." Brain Eater's Bible Lite will contain the entire first chapter of the book app, including dozens of interactive photos, videos, diagrams and anatomical drawings. "The first chapter guides the infected through the early stages of reanimation," the author says, "and helps them understand why they crave human brains."
Heady stuff for your holiday weekend.
Full-Length iPad App
Available Now
151 pages
$4.99 Limited Time Promotion
http://itunes.apple.com/app/brain-eaters-bible/id430476276
Zentro Media
http:http://www.braineatersbible.com
A traditional hardcover version of The Brain Eater's Bible with full-color photography is available on Amazon.com.
ABOUT THE AUTHOR
Pat Kilbane is best known for his three-year run on Fox's Mad TV, though many remember him for his role as the "anti-Kramer" in the Superman-themed Seinfeld episode "The Bizarro Jerry." He has appeared in sci-fi films such as Evolution, Meet Dave, and Day of the Dead, and had a multi-year contract with Dreamworks developing science fiction concepts for television.
ABOUT THE PUBLISHER
Zentro Media is an official Apple iPad developer and a next generation publishing company, combining the talents of Emmy® Award winning storytellers with acclaimed multimedia developers. The combination of proven technical expertise plus creative storytelling and presentation creates a new art form. Zentro Media has offices in New York and Los Angeles. For more information, please visit http://www.zentromedia.com
###