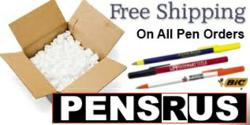 New York, NY (PRWEB) June 28, 2011
The Fourth of July is right around the corner, and PENSRUS is taking part in celebrating our nation's independence from Great Britain by offering savings on American-made "Colonies Collection" of http://store.pensrus.com/Merchant2/merchant.mvc?Screen=CTGY&Category_Code=COLONIE&?s=prweb [business pens __title__ business pens] by Union Made. PENSRUS, a leading provider of personalized pens and tradeshow giveaways, recognizes the advantages of domestically manufactured pens and is holding the sale in an effort to support the domestic pens manufacturing industry.
Many organizations may find that http://store.pensrus.com/Merchant2/merchant.mvc?Screen=PROD&Product_Code=PRU-CAM-123RCL&Category_Code=COLONIE&Product_Count=13&?s=prweb [advertising pens __title__ advertising pens] that are manufactured exclusively in the United States are effective and valuable alternatives to pens made in foreign countries due to their excellent quality, competitive pricing, and longevity. One collection, which offers all of this and more, is the Colonies Collection from Union Made.
The Colonies Collection is perfect for those who are looking to reward employees around the time of the Fourth of July, or for those simply looking to increase branding or commemorate other special events. With its long-lasting ink, detailed craftsmanship, and high quality materials, the Colonies Collection boasts all the necessary traits one looks for in a marketing pen, all the while supporting our country and employment.
"Having a sale on the Colonies Collection is great for our customers," comments PENSRUS CEO Henry Morgan. "Not only do we get to provide our clients with a high quality promotional pen at an extremely affordable cost, but we are also able to support our economy, employees, and employers. It's a win-win."
This Fourth of July, celebrate with the http://store.pensrus.com/Merchant2/merchant.mvc?Screen=PROD&Product_Code=PRU-CAM-690&Category_Code=COLONIE&Product_Count=3&?s=prweb [Clymer Stick Pen, __title__ Clymer Stick Pen] which is customizable in a wide assortment of colors and is perfect for marketing and advertising. Also available is the http://store.pensrus.com/Merchant2/merchant.mvc?Screen=PROD&Product_Code=PRU-CAM-640FL&Category_Code=COLONIE&Product_Count=8&?s=prweb [Patriot Wood Pencil __title__ Patriot Wood Pencil]. With it's patriotic background, one's advertising message is sure to pop out among the rest. The Colonies Collection, priced as low as $0.16 a unit when ordered in bulk, is this season's hottest, and most patriotic writing instrument collection on the market.
For more information on the Colonies Collection from Union Made, please visit PENSRUS.com.
About PENSRUS
PENSRUS is a world-leader in providing the highest quality imprinted and engraved custom pens, pencils, mouse pads, sticky notes, magnets and notebooks. Founded in 2001, PENSRUS consistently earns an A+ rating from the Better Business Bureau and has helped thousands of companies increase customer loyalty and extend brand reach with their quality products.
Contact:
PENSRUS
PENSRUS.com
800 736-7787
###