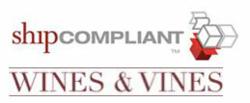 The direct wine shipping market appears to be in full recovery, particularly among California-based wineries.
Napa, CA (PRWEB) June 28, 2011
According to the 2011 ShipCompliant-Wines & Vines Magazine survey of the winery direct shipping market, this sector of the American wine industry is in full recovery, with 11.5% overall gains in both volume and sales over the 12 months ending April 2011. The study of direct shipment data shows that winery shipments to consumers over the 12-month period topped 2.75 million cases of wine valued at more than $1.2 billion.
The new ShipCompliant/Wines & Vines data was presented today at the 6th annual ShipCompliant Direct Shipping and Users Conference in Napa Valley. The annual report is built on millions of transactions compiled by ShipCompliant and integrated into Wines & Vines database of U.S. Wineries using a model developed by the two companies to measure the extent of the direct to consumer wine shipment market. The results are a comprehensive picture of direct to consumers wine shipments in the United States. The presentation of the data was delivered at the ShipCompliant Direct Shipping Seminar and Users Conference by Marc Engel of Engel Research Partners and can be found online at http://shipcompliant.com/data2011/
"The winery direct shipping sector is back on track and growing faster than the overall wine market," said Jim Gordon, editor of Wines and Vines Magazine. "With the overall retail market pegged at $30 billion, direct-to-consumer shipments of wine now represent 4% of the American retail wine market."
CALIFORNIA WINERIES SHOW IMPRESSIVE DOUBLE DIGIT GAINS IN VOLUME AND SALES
Napa Valley and California wineries generally drove the impressive gains in winery direct shipments over the past twelve months. For the May 2010-April 2011 period, Napa Valley wineries increased their volume of wines shipped by 19%, with their value increasing by 16% over the previous 12-month period. Sonoma County saw less significant gains in the volume and sales of wines shipped direct to the consumer, with 5% and 3% respectively. However, wineries in the rest of California saw significant increases in volume and value of wines shipped, at 43% and 38%, respectively.
"The direct wine shipping market appears to be in full recovery, particularly among California-based wineries said Jason Eckenroth, CEO of ShipCompliant. "What's particularly impressive are the substantial gains in both volume and sales of wines shipped by wineries in California located outside the better-known winemaking regions, and this looks to be a significant trend in the industry."
MID-SIZED WINERIES DOMINATE DIRECT SHIPPING SECTOR WHILE BOUTIQUE WINERIES FALTER
More than 50% of direct-to-consumer wine shipments in the United States come from 5,000- to 50,000-case wineries; these wineries posted gains of 17% in volume and 15% in sales. While still a relatively small segment of the direct shipping market, wineries of 500,000 case or more saw the value of their direct shipments during this reporting period increase more than threefold over the previous 12 months despite seeing an increase in average bottle price of 33%. At the other end of the spectrum and also representing a small segment of the market, wineries producing under 1,000 cases of wine annually, the "boutique" wineries, saw a 40% decrease in volume going through the direct shipping channel, while experiencing only a 9% drop in value.
CABERNET AND CALIFORNIA STILL CHAMPS OF DIRECT SHIPMENTS
Cabernet Sauvignon continued to be the darling of the direct shipping market. The red wine accounts for 19% of all wines shipped through the direct shipping channel and 31% of its value, which is as much as the next four most popular varietals—Pinot Noir, Chardonnay, Zinfandel and Syrah—combined.
The ShipCompliant-Wines & Vines data also showed that Californians continue to be the wine drinkers most willing to have wine shipped to their doorstep. Shipments to California addresses represented 32% of volume and sales, more than the next five states—Texas, New York, Florida, Illinois and Washington—combined.
ABOUT SHIPCOMPLIANT
Founded in 2002 and located in Boulder, Colorado and is the leader in automated alcohol beverage compliance services. ShipCompliant provides wine and spirits suppliers and importers with a full suite of web-based software tools to ensure compliance with federal and state regulations for direct and wholesale distribution. ShipCompliant works with the industry's leading software providers and fulfillment companies to provide fully integrated solutions for direct and three-tier distribution. For more information, please visit: http://www.shipcompliant.com.
ABOUT WINES & VINES MAGAZINE
Wines & Vines offers a comprehensive collection of products providing news, information, and marketing and research capabilities. Its monthly magazine, Wines & Vines, and its Directory/Buyer's Guide and Online Marketing System provides a wide range of information solutions to the wine and grape industry. For more information see http://www.winesandvines.com.
###