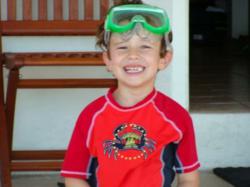 Fiji is a special travel experience, and the ideal location to learn about marine life and the unique culture of the Fijian people.
- Roseann Iovine, President of Outdoor Travel Adventures.
San Diego CA (PRWEB) June 29, 2011
What could be better than an educational family vacation? If you're looking for a great family getaway with valuable enrichment for your kids, look no further. Outdoor Travel Adventures announced today that they are unveiling a new product line of marine science camps and educational travel getaways. The first location for these Marine Science Camps will be on Castaway Island, Fiji.
Castaway is located in the beautiful Mamanuca Island chain, and is an award-winning iconic private island escape embodying the heart and soul of the South Pacific. Guests will enjoy boutique accommodations, fine food, and excellent service, all with family comfort and enjoyment in mind. The island's 174 acres are covered in rich tropical rainforest, surrounded by white sand beaches, vibrant coral reefs and azure waters. The blend of creature comforts and island nature makes Castaway the perfect base for family and educational explorations.
The new Marine Science Camp at Castaway Island will be conducted in cooperation with the Mamanuca Environment Society, and will offer age appropriate first-hand studies on Coral Biology, Reef Formation and Endangered Species – including the Turtle Conservation Project. Campers will also have the chance to choose their own individual research projects while on the island. To encourage cultural enrichment, participants will visit a local Fijian school and village, and also learn about Fijian foods and cooking.
The camp curriculum is ideal for children ages 5-15. Younger children can take advantage of Castaway's renowned Kids Club, which is sure to keep them engaged and immersed in the environment and local culture. Parents can choose to participate in as much or as little activity as they choose. Castaway Island offers wonderful relaxation options, including spa and special dining opportunities, so adults can enjoy some quality personal time as well. In addition, adult and child camp participants can enjoy all of the activities on offer at Castaway, such as kayaking, sailing, snorkeling vibrant reefs, relaxing on pristine beaches, island hopping and visiting local villages.
The inaugural camp trip will depart Los Angeles on November 17th and return on November 26th, and is open to interested families who would like to spend Thanksgiving in paradise while taking advantage of the school break. Special discount pricing will be available. Future camp dates will be announced soon, and teachers or school group organizers should enquire about setting up their own departure weeks.
Outdoor Travel Adventures is a leading provider of adventure, nature and luxury travel. They seek to match each customer's travel goals to an experience that is right for them. The company has been in business since 1996 and prides itself on delivering "Life Enhancing Travel" experiences.
For reservations and information, contact Outdoor Travel Adventures at 800-554-9059 or 619-523-2137, or email us at info@otadventures.com.
# # #