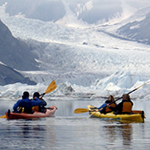 Alaska is an adventure wonderland, and a great end-of-season value.
- Roseann Iovine, President of Outdoor Travel Adventures
San Diego CA (PRWEB) June 30, 2011
Two options for an amazing Alaska vacation are on sale until July 31st. Book the 6-Day Kenai and Denali Safari for August 21 or the Alaska 9-Day Grand Journey for September 2 with Outdoor Travel Adventures, and each traveler receives a $200 discount off the package price, plus a $50 credit toward airfare. The end of the summer season in Alaska offers fewer crowds and a great opportunity to enjoy the scenery and wildlife before the 2011 season comes to a close.
The adventure traveler looking for a true off-the-beaten-path Alaska vacation is sure to be delighted by a small group experience accompanied by a knowledgeable local guide. All details and logistics are taken care of in these unique, inclusive experiences, so guests can relax and enjoy the majestic surroundings.
The 6-Day Kenai and Denali Safari is an inclusive itinerary that focuses on two spectacular regions, perfect for those with limited travel time. The turquoise waters of the Kenai River serve as your path to the remote Kenai Backcountry Lodge, where exciting activities such as guided sea kayaking and hiking await. The journey continues north to Kantishna, deep within Denali National Park, where Dall sheep, moose, caribou and grizzly bears roam the wilderness. Regular price $3,395 less $250, now $3,145.
The Kenai and Denali adventure offers the best of Alaska in less than a week.
The Alaska 9-Day Grand Journey delves deeper into the heart of Alaska. The itinerary features the stunning seacoast teeming with marine wildlife, a cozy eco-lodge nestled in the Kenai National Wildlife Refuge, an exclusive seacoast lodge situated within Kenai Fjords National Park, and time to explore the splendors of Denali. Regular price $5,195 less $250, now $4,945.
For more information on an Alaska adventure, call (619) 523-2137 / toll-free (800) 554-9059, or email Outdoor Travel Adventures at info(at)otadventures.com.
Outdoor Travel Adventures is a leading provider of adventure, nature and luxury travel. They seek to match each customer's travel goals to an experience that is right for them. The company has been in business since 1996 and prides itself on delivering "Life Enhancing Travel" experiences.
###