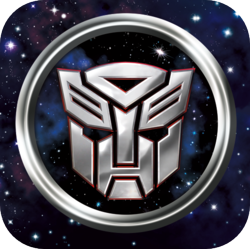 Los Angeles, CA (PRWEB) June 29, 2011
iStoryTime, the largest library of mobile children's book applications, in partnership with Reader's Digest Children's Books® and Hasbro, Inc., today launched the Transformers Dark of the Moon Mix & Match storybook available immediately on Apple's iPad, iPhone and iPod touch. Fans can use their imaginations to create over 200 different reading adventures between the Heroic Autobots and Evil Decepticons before the premiere of the theatrical film directed by Michael Bay, which will release on June 29, 2011.
An interactive mix-a-story app, Transfomers Dark of the Moon Mix & Match allows fans to swipe through the original story, create their own adventures as well as shake the device to randomly unlock unimaginable Autobot and Decepticon story and character combinations. Fans can combine heads, bodies, legs, weapons, and other features to make Transformers unlike any other.
"Until now you could only imagine a Transformer that combines the sleek sports car look of Bumblebee and the power-packed features of Optimus Prime with the mechanical legs of the Autobot warrior Ratchet," said Woody Sears, co-founder of iStoryTime. "Now you can build any Transformer you can imagine right on your iPhone, iTouch or iPad."
The storybook also includes a colorful guide to the Autobots and Decepticons that appear in the hit movie. Fans can touch the Autobot or Decepticon insignia for full bios of Ratchet, Mirage, Bumblebee, Optimus Prime, Sentinel Prime, Shockwave, Crowbar, Megatron, Starscream and Soundwave. Each bio gives a description of the character's function, vehicle mode and weapon for an even more in-depth look into the Transformers story.
Transformers Dark of the Moon Mix & Match was written by author David Roe and illustrated by Alex Milne and Rob Ruffalo of Udon. Milne and Ruffalo have previously worked on "G.I.Joe Vs. The Transformers: The Art of War." Ruffalo created Dreamwave's Micromasters series as well as "Sixshot" and was involved with many more Transformers and Warhammer titles. Milne has worked on "Transformers Prime Time" and countless other projects.
Features:

Read to Me: Select the option from the menu and the story will be read aloud.
Create-a-Transformer: Mix the heads, bodies, legs, weapons, and other features from six movie Transformers to create your own unique character combinations by sliding panels or shake your device to randomly mix and match.
Mix-a-Story: Mix and match the words in the story to create your own unique Transformers tale and battle scenes.
Transformers Facts: A colorful guide to the Autobots and Decepticons that appear in the movie.
iStoryTime brings the joy of a kids' book to the convenience of the iPhone, iPad and iPod® touch. iStoryTime books are illustrated and narrated, so children can enjoy the book even when parents are busy. Best of all, the apps are simple to use because they are designed for kids two-years and up.
To stay up-to-date within ongoing news about iStoryTime, please visit us on our Facebook fan page at http://www.facebook.com/iStoryTime.
About iStoryTime
iStoryTime - an interactive storytelling experience delivered to the convenience of your mobile device - features a series of illustrated and narrated books created by parents for kids. iStoryTime books have been highlighted in the New York Times, LA Times, CBS Early Show, theiPhoneMom.com, CNET and is decorated with PTPA Media's Parent Tested Parent Approved Seal of Approval and the Children's Technology Review's Editor's Choice Award. With over 100 titles to choose from including favorites such as Kung Fu Panda, Shrek, How to Train Your Dragon, Peter Pan and Binky the Pink Elephant, iStoryTime books are an excellent tool for both educating and entertaining children ages two years and up. These storybooks can be enjoyed in several different modes ranging from automatic to manual, depending upon the development and preferences of the user. For additional information, visit http://www.istorytime.com.
###