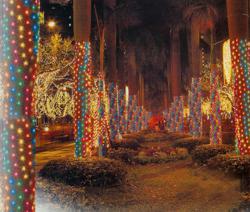 As each holiday arrives this year, we're able to offer more home and outdoor décor to fit that celebration
Buffalo, NY (PRWEB) June 29, 2011
Christmas Central, one of America's largest online retailers of Christmas merchandise and home décor, is pleased to present patriotic and picnic products in celebration of the July Fourth holiday. Customers can choose from patriotic indoor and outdoor décor, a wide selection of red, white and blue decorative lighting, and a large variety of picnic totes, baskets and mats.
With nearly 12,000 items in its fast-growing department of home and garden décor, Christmas Central and its sister web store, MerchantOverstock.com, now offer pillows and blanket throws featuring flags or other symbols of Americana. Ideal for Fourth of July display, several of these highlight designs by renowned folk artist Warren Kimble. For patriotic yard or garden decorating, Christmas Central suggests their festive coordinating luminary and disc styles of red, white and blue garden stakes.
"As each holiday arrives this year, we're able to offer more home and outdoor décor to fit that celebration," said Nathan Gordon, co-founder of ChristmasCentral.com. "We're excited that our diversification includes holidays like the Fourth of July."
A well-established supplier of Christmas lighting, ChristmasCentral.com stocks red, white and blue incandescent and energy-efficient LED lights for year-round use. Individuals, photographers and businesses can create eye-catching symbolic displays with icicle and rope lights, and strings of miniature and larger bulbs.
Christmas Central is proud to also provide customers with dozens of picnic gear options for outdoor eating. Shoppers preparing for July Fourth festivities can choose Earth-friendly basket sets, contemporary totes, insulated coolers, and waterproof padded mats, each in multiple sizes, styles and colors.
About ChristmasCentral.com
ChristmasCentral.com is a division of Gordon Companies, Inc., a family owned and operated business founded in 1977. As one of the largest online retailers of Christmas merchandise and home décor, ChristmasCentral.com offers over 30,000 unique products, serving the decorating needs of individual shoppers, professional decorators, small and large businesses, and television studios. Their colorful Christmas trees have been featured on NBC's "The Today Show."
For more information, please visit http://www.ChristmasCentral.com or call 800-433-0038.
###