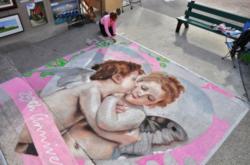 Chalk art is very special and is designed to be an immediate creation which will disappear once the event is over.
North Palm Beach, FL (PRWEB) June 29, 2011
Internationally acclaimed and award winning Chalk Artist Jennifer Chaparro will be featured at the Cityfolk Festival on July 2nd & 3rd. The City Folk Festival in Dayton, Ohio, draws thousands of music, art, and craft lovers from throughout the Midwest.
"I'm extremely pleased to have been chosen to create a beautiful work of art for this event," said Chaparro. "Chalk art is very special in that it is really a performance art and is designed to be an immediate creation which will disappear once the event is over. Every work is different because of all the variables – surface, weather and lighting – which all play a part in the uniqueness of the art."
Chaparro is best known for her award winning technique of using soft pastel chalk on asphalt and concrete pavement surfaces. "The size and vibrancy of my art makes it hard to miss and creates the 'wow factor' for everyone who views it," said Chaparro. The scale of her work, in sizes up to 10 feet by 30 feet, create an intimacy that brings the public into the artwork she has created.
For Chaparro, the Dayton Cityfolk Festival marks a unique homecoming of sorts. Chaparro spent eight years as a resident of Kettering, a suburb of Dayton, and many of those years working to promote the arts through her work at the Dayton Visual Arts Center. She will be assisted by her 16 year old daughter, Carmen Chaparro, who is a native of Kettering, and is also an award winning artist.
"It's really a coming home for Carmen and myself. This will be my first time chalking in Ohio, since I started street painting after we left Dayton in 1999. We hope to see many acquaintances and make new friends as we create a unique work of art for the Cityfolk Festival." The art, which will be on St. Clair Street near Monument, will also include areas around the main work for kids to get creative and chalk.
Most of Chaparro's artwork takes one to three days to complete. "Many people who watch me work compare what they are witnessing to a monarch butterfly migration – temporary & fleeting yet spectacular & amazing to witness," added Chaparro.
Chaparro's philosophy is that street painting is as much about the performance and execution, as it is about the art. "Many people see large 3D art on the internet, but don't realize that it is actually painted on the street by teams of people. My art is all chalk, which is much more delicate and challenging to work with. Once they see my art in person, they "get it" and see how difficult chalk art can be."
Fall will be a busy time, as Chaparro has many upcoming events scheduled. One will be an inaugural event, the Dublin, Ireland Chalk Festival to be held on the outskirts of Dublin in Dun Laoghaire. Chaparro will be one of three featured artists, and the only one from the United States. She will also be an artist in residence at The Harvest Festival at Silver Dollar City in Branson, Missouri for 4 weeks. After that, there are events in Florida, as the busy winter season kicks into high gear.
Chaparro, who has exhibited her unique works of chalk art throughout the United States and abroad has won many awards for her special artistic style including: (please add to this Jennifer).

Best Portrait Award, Haines City Street Painting Festival, Haines City, FL, 2011
Best Theme Award, Puppetfest, Boca Raton, FL, 2011
Best Portraiture/Figurative Award, Disney/FCAA Festival of the Masters, Orlando, FL, 2010
Artist's Choice Award, ArtHaus Street Painting Festival, Port Orange, FL, 2010
Best in Show Award, Haines City Street Painting Festival, Haines City, FL, 2010
Best Theme Award, ArtHaus Street Painting Festival, Port Orange, FL, 2009
Featured Artist, Sarasota International Street Painting Festival, Sarasota, FL, 2008-2010
Featured Artist, Lake Worth Street Painting Festival, Lake Worth, FL, 2006-2011
Best of Shoe Award, Shoe Show, Santa Clara Arts District, Dayton, OH, 1993
UCLA Spring Student Show, Los Angeles, California, 1983 & 1984
Clairemont Art Guild Student Merit Award, San Diego, California, 1980
First Place Watercolor, Southern California Exposition, 1980
For more information about chalk artist Jennifer Chaparro, her art work, or to schedule an appointment to discuss for a special event, call (561) 315-0243, or visit her website at http://www.amazingstreetpainting.com. Media Note: Interviews and demonstrations are also available.
###