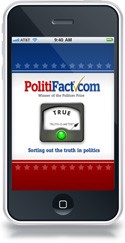 "It's not just another news app – it's a really fresh way to stay on top of politics and find who is telling the truth." - Bill Adair, Editor of PolitiFact
(PRWEB) June 29, 2011
The Truth-O-Meter is now portable.
PolitiFact, the Pulitzer Prize-winning fact-checking website of the St. Petersburg Times, has launched an app that lets users track the truth-telling of politicians and pundits, see their Truth-O-Meter scorecards, and follow their campaign promises. The PolitiFact app, built using Adobe® Flash® Builder® 4.5, is available for iPhone and Android devices.
The app has several new features, including the Truth Index, a daily number similar to the Dow Jones Industrial Average that shows the ups and downs of all state and national Truth-O-Meter rulings.
"The Truth Index is a unique way of following the political discourse," said PolitiFact Editor Bill Adair. "It will show when the truth is taking a beating."
The mobile app combines the Truth-O-Meter, the Obameter and other popular features of the PolitiFact.com site with new ones such as the Truth Index and tallies of Truth-O-Meter and Flip-O-Meter rulings, which have not been published before.
Users of the app will be able to select rulings for a subject and see how they compare with rulings overall. For example, users will be able to see if statements about health care are more prone to falsehoods than all statements. The app also allows users to email their favorite Truth-O-Meter items to friends and co-workers.
"The unique nature of PolitiFact's fact-checking journalism makes it ideal for a mobile app," Adair said. "It's not just another news app – it's a really fresh way to stay on top of politics and find who is telling the truth."
The app, currently available for $1.99, will soon be available for the iPad, the BlackBerry PlayBook, and the Nook.
About PolitiFact
PolitiFact.com was launched in 2007 to fact-check the presidential campaign. In 2009, the site began fact-checking pundits and talk show hosts and a new feature, the Obameter, was added to track President Obama's 500-plus campaign promises. It has received numerous awards, including the 2009 Pulitzer Prize for National Reporting.
The site is a product of the St. Petersburg Times, Florida's largest newspaper with an average circulation of 429,048 Sunday and 292,441 daily (ABC FAS-FAX March 2011). Considered one of the top ten newspapers in the country, the newspaper has eight Pulitzer Prizes to its name.
###