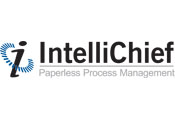 We are excited to present to Partners how the Infor IntelliChief Document solution is the way to go paperless, especially if you're already familiar with Infor applications
Mansfield, MA (PRWEB) June 28, 2011
IntelliChief LLC, the leading provider of Paperless Process Management™ (PPM) solutions for the IBM I (System i, iSeries, AS/400) Enterprise will attend the 2011 Infor Channel Partner Summit and present the latest features and benefits of the Infor Document Management suite of products.
The 2011 Infor Channel Partner Summit will be held from July 13-15, 2011 at the Gaylord Palms Resort & Convention Center in Kissimmee, FL.
Infor channel partners who attend will learn how they can offer Infor users a robust electronic document management solution that integrates directly with Infor ERP installations and allows for the complete elimination of paper from business processes. IntelliChief will discuss how this solution increases operational efficiency in areas such as purchasing, receiving, payables, human resources, customer service, and more.
"Infor channel partners will find that offering Infor IntelliChief to their customers is a winning proposition. It's an easy sell because of the strength of our value proposition – 100% ROI in one year or less," said Michael Rooney, vp of sales and marketing for IntelliChief.
As an official Infor Solution Partner, IntelliChief has worked very closely to ensure the tightest and smoothest integration possible. "We are excited to present to Partners how the Infor IntelliChief Document solution is the way to go paperless, especially if you're already familiar with Infor applications," said Mr. Rooney.
Infor IntelliChief streamlines and improves processes such as the purchase of goods, the receiving of materials, the processing of invoices and submitting of payments to vendors by eliminating manual tasks involved with document sorting and distribution, approvals, and paper handling. As users are retrieving Purchase Order documents, IntelliChief displays all related documentation, including the original PO request, vendor acknowledgements, vendor invoices, etc.
IntelliChief will be presenting the Infor IntelliChief Solution throughout the conference and welcome attendees to stop by the IntelliChief booth to discuss document management options and solutions.
About IntelliChief
IntelliChief, is the leading provider of Paperless Process Management (PPM) solutions for the IBM i (System i, iSeries, AS/400) Enterprise. With decades of expertise in the market and seamless integration with leading ERP software vendors, IntelliChief takes companies of all sizes paperless with a typical ROI of less than 8 months. Users can create, capture, manage, archive, retrieve, and distribute mission-critical documents directly from their familiar ERP screens, eliminating the need for filing cabinets, storage facilities, fax machines, copiers, and paper files.
###