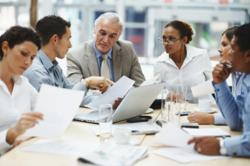 Should I stay with Impromptu, move to Cognos 8, or go with another reporting solution ?
(PRWEB) June 28, 2011
Iuvo is now specializing in report writing services to support Costpoint®, GCS Premier® and other project based systems. Iuvo is currently working with firms to evaluate their current project reporting environments and identify the time consumption and costly challenges caused by disparate systems and manual processes.
Iuvo's principal reporting consultants are helping government contractors get on the path of informed decision making by consolidating reports from various systems and producing reports that are most critical to the profitability and growth mission of their organizations.
As a result, our clients are now operating in environments that include (but not limited to) the follow attributes:

A holistic view of project performance as it relates to major project milestones and key business success indicators.
One platform that provides visibility into project(s) percentage to completion and percentage of budget spent ratios.
Manual processes involving spreadsheets and costly home grown environments are eliminated. This translates into our clients spending less time data gathering and more time analyzing key performance indicators.
Accurate budgeting and forecasting increases accountability with their federal customers establishing trust and desirability for future contracts.
Secured data is achieved by increasing controls, segregation of duties and providing "as needed" access to confidential business data.
Iuvo is an independent service provider delivering to our clients a team of seasoned consultants and former Deltek employees with an average of 14 years of experience in helping government contractors optimize their existing software, achieve compliant processes, and recognize a productive staff.
To schedule a free phone consultation with one of Iuvo's principal reporting consultants, call Ed Muldrow at 703-636-1488 ext. 102 and to learn more visit Iuvo at http://www.iuvosystems.com.
our experience - your advantage ™
# # #