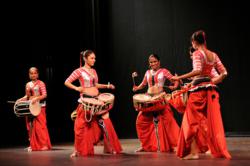 Staten Island, NY (PRWEB) June 29, 2011
This year marks the ninth celebration of Ranga Tharanga. The celebration will occur on Saturday, July 9th at the Williamson Theater at the College of Staten Island, 2800 Victory Boulevard, between 4:45pm and 8:30pm. Ranga Tharanga is a Sri Lankan -American children's celebration of Sri Lankan culture through the performing arts: music, storytelling, drama, dance, and poetry. This will be Ranga Tharanga's ninth year of sharing traditional Sri Lankan music and dance with Staten Island. Sri Lankan-American children, and some of the elders of the community, who are the special performers at this event, worked all year to prepare for this joyous celebration. The program will be translated from Sinhalese to English.
The goal of this program is to introduce Sri Lankan culture and Heritage to Sri Lankan-American children living in the Staten Island community, the Tri-State area, and beyond. Staten Island serves as the hub of the large Sri-Lankan community which spans from the Northeast down to the Mid-Atlantic region. This year, participants will include members of the Sri-Lanka communities of Queens, Staten Island, New Jersey, Boston, and Maryland with over 180 participants.
Ranga Tharanga seeks to preserve Sri Lankan culture and heritage among the next generation of Sri Lankan-American Children. It is also a way to share the culture of Sri Lanka with the other cultural communities on Staten Island. The event is open to everyone and anyone interested in learning about Sri Lankan traditions, and the continuation of those traditions here on Staten Island.
Tickets to the event are $15 per person. All proceeds go to the "Sisu Setha" Scholarship Trust Fund Grants offering educational scholarships and material assistance to Sri Lankan children in need.
For more information on the Ranga Tharanga please contact Suranga Perera at the following email address: info(at)rangatharanga(dot)com. Additional information about the Ranga Tharanga celebration can be found by viewing the following video: http://vimeo.com/23659657. Photographs are available at the following link: http://www.flickr.com/photos/49430422@N03/sets/72157626937600129/
###