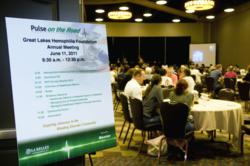 Georgetown, MA (PRWEB) June 30, 2011
LA Kelley Communications took its unique newsletter, PEN's Insurance PULSE, on the road to Wisconsin! PEN's Insurance PULSE is the only newsletter for the bleeding disorder community dedicated to insurance issues. Pulse on the Road, sponsored by Baxter Healthcare Corporation, was created to address a variety of insurance and healthcare reform topics of urgent importance to families with bleeding disorders. The program brings the pages of Pulse to life, turns the discussion interactive, and gives families a chance to ask questions and get answers in a live forum.
Now in its second year, Pulse on the Road started its latest tour at the Great Lakes Hemophilia Foundation's annual meeting at Wisconsin Dells.
An audience of 85, including people with bleeding disorders, family members, and industry representatives, listened to expert speakers from LA Kelley Communications; Baxter; Patient Services, Inc.; National Hemophilia Foundation; and a state representative for the chronic disease community.
Laurie Kelley, of LA Kelley Communications, began the program with a look at how the hemophilia community has changed over the past 15 years, discussing topics such as product, pricing, and reimbursement. Elizabeth Stoltz from Baxter presented an Insurance 101 review explaining key terms and concepts that families need to navigate the new landscape of hemophilia healthcare reform. Ruthlyn Noel, policy manager with NHF, presented survey results from a 2010 patient survey about healthcare: the audience was encouraged to learn that between 80% and 90% of survey respondents knew that lifetime limits have been eliminated and that children can stay on their parents' insurance plans until age 26. Jim Romano of PSI reviewed the Affordable Care Act and how it will impact hemophilia. Although most of the action starts in 2014, everyone needs to prepare for the many changes. Jim talked about the central issue of mandated insurance, and how the government will assist in getting coverage, from exchanges to state tax credits to expanding Medicaid.
The program featured three breakout sessions: Advocacy, Out-of-Pocket Expenses, and Medicaid. An open Q&A concluded the program. One father asked, "What should parents do when they bring their child to the emergency room and are forced to buy the hospital's factor?" For him, one hospital visit cost $100,000! He received great advice about why this might happen, and how to prevent it from happening again.
For other 2011 Pulse on the Road locations, visit http://www.kelleycom.com and click on the Events tab. Pulse on the Road's next stop is San Antonio, for the Lone Star Chapter of the National Hemophilia Foundation's Texas Bleeding Disorder Conference on Sunday, June 26.
About LA Kelley Communications, Inc.
Since 1990, LA Kelley Communications, Inc., has been a world leader of groundbreaking educational materials and programs on hemophilia and related bleeding disorders. With more than a dozen books, numerous publications, and the oldest hemophilia newsletter in America, LA Kelley Communications remains a trusted source of practical information about raising children with bleeding disorders. For more information about LA Kelley Communications, please visit http://www.kelleycom.com or call 978-352-7657.
###