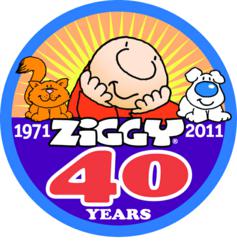 Ziggy is a character with whom we can all relate.
Kansas City, Mo. (PRWEB) June 28, 2011
Ziggy, everyone's favorite bald, barefoot, comics page Everyman, is turning 40! On June 28, cartoonist Tom Wilson and his son and collaborator, Tom Wilson II, celebrate four decades of bringing the funny to the funny pages in Ziggy.
Beloved by fans worldwide for his optimistic outlook despite all odds and adversity, Ziggy's popularity endures because he remains relevant as he adapts with the times. In the economy of a single cartoon panel, Ziggy has endeared himself to readers while commenting on a wide range of topics, including current events, technology, friendship, love, faith and the challenges and ironies inherent in daily life.
"Ziggy was the first panel to join the Universal Uclick family," said Lee Salem, president and editor of Universal Uclick. "We knew then that Tom Wilson had created something special. Forty years later that sentiment remains the same. Ziggy is a character with whom we can all relate."
Since the beginning Ziggy has steadily grown to become one of the most recognizable cartoon characters in the world. Appearing in more than 500 daily and Sunday newspapers, featured on more than 50 million greeting cards, printed in dozens of best-selling books and calendars and winning a Best Animated Special Emmy for "Ziggy's Gift," Ziggy is as popular today as ever before.
Ziggy is also a mainstay in popular culture, being featured on television episodes ranging from "Seinfeld" to "30 Rock" and from the "The Simpsons" to "Family Guy." The iconic character is also the spokes-character for many charitable endeavors, including World Food Day, The National Foster Parent Association, National Foster Care Awareness Month, the Leukemia and Lymphoma Society, and is working with Autism Speaks to bring awareness to their cause.
Ziggy's 40th is being commemorated in a special 40th anniversary collection book featuring 300 panels chosen by creator Tom Wilson (Andrews McMeel Publishing, $24.99). The collection is organized by decade and provides a peek into the most delightful panels that have appeared in Ziggy's illustrious history.
As Tom Wilson stated, "For me, sitting here, looking though this forty-year record of the life and times of this wonderful little character, who suddenly and with little fanfare entered our lives, is like spending a rainy afternoon flipping through a treasured family photo album."
To download sample strips and to obtain more information about Ziggy and creator Tom Wilson II, go to http://www.ziggy.com/press.
About Universal Uclick
Universal Uclick is the largest independent syndicate in the world and a leading digital entertainment provider of humor, comic strips, political cartoons, and other content for print, web and mobile devices. Universal Uclick provides editorial development, licensing and other distribution services for iconic brands like Doonesbury, Dear Abby, and some of the most significant comics in history, including Calvin and Hobbes, The Far Side, Garfield, Peanuts, Dilbert, For Better or For Worse, Cathy, and Ziggy as well as recent hits Lio, Cul de Sac and The Argyle Sweater. Effective June 1, 2011 Universal Uclick assumed management of syndication services for United Feature Syndicate which includes the properties Pearls Before Swine, Get Fuzzy, Marmaduke, Frank & Ernest, The Born Loser, Big Nate and Miss Manners, and the Newspaper Enterprise Association (NEA) Package.
###