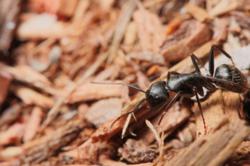 July is the peak month for carpenter ant activity. Carpenter ants are attracted to moist, damaged wood and can cause significant damage if left untreated.
Neptune City, NJ (PRWEB) June 30, 2011
In Steven Spielberg's classic horror film, Poltergeist, little Carol Anne, while watching TV static, ominously announced to her family, "They're here." With July upon us, Cowleys Termite and Pest Control is giving the same reminder to homeowners -- not for the pending arrival of malevolent spirits -- but for something almost as creepy: carpenter ants that are poised to invade homes. In New Jersey, carpenter ants become active in May and slow down in October. But July is the month of peak activity.
This warning is especially important for those with homes built in wooded areas. Carpenter ants are known to forage up to 100 yards to search for food and establish satellite colonies. And these foragers often wind up around or inside our homes. It is important for homeowners to not only monitor the inside of their house for carpenter ant activity, but the surrounding trees and other wood sources around the house as well.
New Jersey hosts eight carpenter ant species of different sizes and colors. The most common and largest of these ants is the black carpenter ant that has a uniform dull black color. Carpenter ants take their name from what they do best: chewing and tunneling through wood in order to create passageways (called "galleries") for building and expanding their nesting sites.
Carpenter ants, unlike termites, do not eat or digest wood for food, preferring a more traditional insect diet. However, carpenter ants are nothing to ignore. They cause significant cosmetic damage that, if left untreated year after year, can be extensive. Also, once a carpenter ant colony is established, they do not simply "go away."
In all likelihood, if a home has a carpenter ant problem, it usually has a water-related problem as well that has caused decaying or mold-infested wood. Nests are commonly found:

Behind bathroom tiles
Around tubs, sinks, showers, and dishwashers
Under roofing
In attic beams
Under subfloor insulation
In foam insulation
The only effective, long-term way to control carpenter ants is to locate and destroy the nest, replace damaged or decayed wood, and eliminate moisture problems.
Today's "gold standard" in pest control services is Integrated Pest Management (IPM) that emphasizes prevention and the judicious and selective use of chemical applications as part of an overall cost-effective long-term treatment plan.
Although it may "feel good" to kill a few of the pesky ants, spraying a home-use insecticide on surfaces where ants travel or congregate such as along baseboards or in holes or cracks in the walls and floors has little long-term effect. It may reduce the frequency and number of ants that you see, but it does nothing to eliminate the nest.
Homeowners can do the most good in dealing with carpenter ant infestations through prevention.
Replace any moisture-damaged wood in your home.
Keep any wood or lumber that is stored in a garage or near the house dry and, if possible, elevated to allow air circulation.
Store firewood as far from buildings as possible.
Remove tree and shrub stumps and roots; leaving them to rot is an open invitation for these pests.
Trim branches that overhang the home or touch electrical wires connected to the house.
Seal cracks or small openings near the base of your home.
Remove water/moisture sources in and around your home (roofing and plumbing leaks are the most common).
By being proactive in caring for one's home and surrounding property, homeowners can significantly reduce the likelihood of a carpenter ant infestation. But if there is a carpenter ant infestation, contact a pest control professional immediately. Otherwise, the colony will continue to expand and cause even more damage.
Founded in 1991, Cowleys Termite & Pest Control has offered homeowners and businesses comprehensive solutions to resolve all types of pest infestations.
Additionally, Cowley's offers bird, rodent, and wildlife removal. For more information visit http://www.cowleys.com or call 866-9-COWLEY.
###