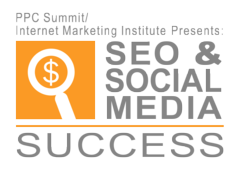 Port Townsend, WA (PRWEB) June 30, 2011
As the rise of social media grows, the importance of aligning Social Media Marketing (SMM) and Search Engine Optimization (SEO) strategies continues to be a critical issue for marketers. The SEO and Social Media Online Success Seminar offers convenient online training presented by A-list expert instructors teaching lessons learned from their experiences managing multi-million dollar online marketing campaigns. Marketers will learn the foundational platform for integrating SEO and Social Media strategies to improve online campaign results. With nearly one thousand attendees signed up for this week's complimentary preview webinar, the seminar is gaining traction from both B2B and B2C businesses and marketers looking to improve their internet marketing efforts. The seminar will hold a final free preview webinar on July 12th covering 'Friendship Marketing: How To Turn Google and Facebook Into Profit Centers' led by Evan Bailyn, Founder of First Page Sage.
During 18 online educational classes, the SEO and Social Media Success Online Seminar is geared to combat the common challenges that marketers face every day. The classes will help marketers enhance their SEO and Social Media effectiveness and stay abreast of emerging Search Marketing trends, resources and technologies.
SEO and Social Media Success Online Seminar Class Highlights:

Rank at the top of Google for your most profitable keywords
Build a massive Social Media audience to attract new business
Understand the future of search and Social Media
Monetize Social Media Marketing for all businesses–b2b and b2c
Optimize websites and social media to convert more customers
Maximize ROI with an integrated SEO and Social Media plan
Utilize the right social networks to acquire more customers
The training will lay the framework for online campaigns to improve rank visibility and reach more targeted prospects on the search engines. The experts will share SEO and Social Media best practices for Facebook, Twitter, LinkedIn, Blogs and more, along with a multitude of tools and solutions for building social networks and improving search engine rank.
From raising customer awareness and brand recognition to increasing lead generation, both SEO and Social Media remain a top focus for companies looking to maximize their internet marketing ROI. The experts will delve into analytics tools for measuring SEO and Social Media campaign impact and reach--highlighting a variety of monetization opportunities.
The rules of marketing have changed and savvy marketers are learning how to take advantage of emerging SEO and Social Media opportunities. Attendees are invited to join the final free preview on July 12 covering 'Friendship Marketing: 'How To Turn Google and Facebook Into Profit Centers' led by Evan Bailyn, Founder of First Page Sage. Interested participants can register for the seminar and save 50% for a limited time at the SEO and Social Media Success Online Seminar (July 19-28) website.
About SEO and Social Media Success Online Seminar, hosted by PPC Summit/Internet Marketing Institute
Over the past 5 years PPC Summit has led the way in internet marketing training providing leading education to thousands of marketers during live and online seminars. Each seminar is dedicated to delivering tactical classes that empower marketers to help improve their bottom line profits. The live and online seminars bring together world-class internet marketing experts who teach insider secrets, strategies and tools to help businesses increase their sales and achieve higher profits. For information on the next seminar, visit the SEO and Social Media Success site for complete details.
###