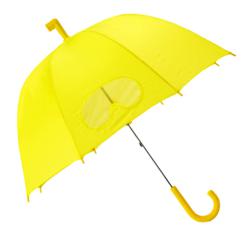 Minneapolis, MN (PRWEB) June 29, 2011
Normally considered a fashionable accessory; umbrellas finally become the main event with the opening of a new online umbrella emporium called Ella Umbrella. Dedicated solely to umbrellas, the website is filled with over 100 rain umbrellas from the top brands and is meticulously organized into one easy-to-navigate store.
Offering a deluge of top brands such as Totes umbrellas, Samsonite, Fulton and London Fog as well as more artful additions from Marimekko and the Museum of Modern Art, all the trusted names are available in one comprehensive collection. Not only has the website nabbed the best brands but Ella Umbrella has hand-picked exceptional and hard to find prints and styles. From trendy bubble umbrellas to 60's & 70's inspired mod patterns to kid's umbrellas, Ella Umbrella has the most stylish and sturdy styles to protect you come rain or shine.
Debating over preppy plaid or perky polka dots? The unique search tool at Ella Umbrella makes sifting through the extensive collection efficient and enjoyable. Stealthily removing any umbrella that doesn't match your search criteria, you'll quickly find the perfect umbrella by brand, color, collection, style, pattern or price to suit your every whim. A bright spot even when skies are grey, the online store stylishly shields you from all your weather woes as Ella Umbrella floods the scene with superior selection.
An online umbrella superstore, Ella Umbrella carries over 100 different styles of umbrellas from the top companies such as London Fog, Totes, Samsonite, Marimekko and Fulton. In addition to carrying the best brands, Ella has amassed a variety of styles including fashion, golf, collapsible, stick and miniature umbrellas. Offering complete wet weather protection, the expansive collection of high-performance umbrellas will deliver you safe and dry to any destination. Free shipping for a limited time, shop online at EllaUmbrella.com.
###