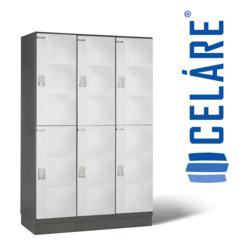 According to Emma Mann, Marketing Manager at Digilock, "It's clear that locker design has been static for decades, Celáre has chosen to break the mold and completely re-engineer the locker room experience."
Petaluma, CA (PRWEB) June 30, 2011
Security People Inc. is proud to announce the launch of an entirely new line of fitness and lifestyle lockers. Celáre lockers are available in a variety of design styles that utilize the state of the art keyless locks by Digilock in a variety of security levels.
Celáre is innovation in facility storage, redefining space and security. Lockers should be much more than simple hardware. They should aspire to be works of art to heighten a guests' experience and enhance the overall décor.
Celáre has reinvented the locker room experience by combining beauty with precision engineering. Lockers are made from materials that meet the latest sustainability standards and are 100% recyclable. Engineered to withstand heavy usage in demanding environments, these lockers feature a comprehensive ventilation system to provide true airflow.
According to Emma Mann, marketing manager at Digilock, "It's clear that locker design has been static for decades. Celáre has chosen to break the mold and completely re-engineer the locker room experience." Through considerable investment in design and resources Celáre has unveiled the newest concept for Fitness Centers, Spas, and facilities needing guest storage. Secured by Digilock, the industry leader in electronic locking, Celáre is able to not only enhance a facility's aesthetic but also provide total guest security. These lockers can accommodate any of the Digilock range of locks for a complete custom design.
Celáre lockers incorporate functional frames and doors that are innovative and beautiful. All door creations are available in glass or metal in a variety of designs and colors to suit any décor. Locker configurations can be designed to accommodate one to six tiers within a single frame. Since the trade show debut this spring, Celáre has received strong industry interest, which has paralleled the rebound in the construction industry as the United States emerges from the economic downturn.
About SPI
Security People Inc. (SPI) is the global leader in lock and locker experiences that enhance lives by making Security Simple. SPI is made up of the four leading brands in lock and locker technology, Digilock, Celare, Lockup and Numeris. Through the combination of innovative technology with the highest caliber of materials, Security People is able to provide products that perform. Our products are available in an array of designs and styles suitable for any décor.
Our brands increase the locker room appeal to guests while safely protecting personal belongings. Quality is our signature from design to engineering, aesthetics to security. We provide the best customer service possible and build enduring relationships around the world.
###