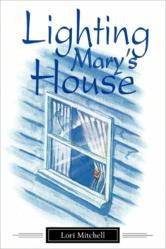 "There is always hope in His love and if there is hope for me, there is hope for anyone."
Colorado Springs, Colorado (PRWEB) June 28, 2011
"I prayed to the Lord and He answered me. He freed me from all my fears" (Psalm 34:4). Author Lori Mitchell centered on this Bible verse in her new book, Lighting Mary's House. She encourages readers to come and know Jesus as the way to true happiness, and discover the power of forgiveness and the gift of repentance.
"The Lord can and will put all the pieces together to glorify Him if you let Him," says Mitchell. "There is always hope in His love and if there is hope for me, there is hope for anyone."
Mitchell had a more difficult childhood than most. For the first eight years of her life she was led to believe that one man was her biological father, when in fact it was another. When her mother and the man divorced he no longer treated her as his daughter. To make matters worse, her mother was always very cold and unloving towards her. Mitchell contemplated getting involved with drugs and suicide every day from her overwhelming pain. Her saving grace was a stranger inviting her and her family to church. That was the day her whole life changed. The first time she heard God loved her and that Jesus died for her, she believed it.
Lighting Mary's House begins with a heartfelt letter to the reader. It invites the reader to join Mary on her journey from struggle and darkness to forgiveness and repentance. It is as follows:
"…Jesus enters Mary's life and lovingly guides her from her world of misery and darkness into His glorious light. They do this together as Mary bravely reveals her painful emotions that are locked up in each room. The power of forgiveness and the gift of repentance finally triumph allowing Mary to experience His joy and freedom."
Lighting Mary's House includes a workbook at the end coordinating with each chapter for the reader to reflect on their own pain. Each section asks thought-provoking and life altering questions to help each reader overcome their own struggles.
"I can attest fully that the Lord has given believers a very powerful weapon in love and forgiveness rather than choosing to be embittered and to hate," says Mitchell. "Releasing the pain of the past is the most loving thing we can do for ourselves and I have learned this over and over again."
About the Author
Lori Mitchell is a registered nurse. She came to know Jesus as her Savior and became a Christian when she was twelve years old. This was only the beginning of her journey toward healing with her many challenges including a very painful childhood, illnesses and a difficult marriage. She believes that no healing can be done without the Lord. Mitchell is the mother of two grown sons who are married and she has four grandchildren. She currently lives in Colorado Springs, Colorado.
###