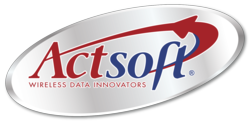 Charts and graphs are immensely easier to interpret than multiple pages of data.
Tampa, FL (PRWEB) June 30, 2011
Actsoft Inc., a leading provider of wireless data collection and mobile resource management (MRM) tools announced today that the latest upgrade to their popular Comet Tracker software includes an elite custom graphing option that provides customers with the ability to transfer valuable metrics gathered by the software – and present it in easy-to-view charts and graphs. The service is provided at no additional cost to the customer.
Actsoft's Comet Suite is a mobile device-based service that provides advanced mobile workforce management, including: GPS based location tracking, wireless job dispatching, mobile time clock, geofencing, Advanced Wireless Forms and many other critical functions. With the current development and deployment of Comet Insight, managers of a mobile workforce will be able to view the basic metrics of their business in a format that gives a clean and defined view of what is important to that specific customer.
Comet Insight will present business metrics in a visually appealing and easy-to-analyze format.
Actsoft's MRM solutions are deployed worldwide to tens of thousands of mobile workers, using a wide variety of mobile devices on all major wireless networks. Customers have the ability to choose from a scalable product offering – from the web-based simplicity of Comet EZ to the robust client based power of Comet Tracker and Comet Mobile Worker. Their ability to customize solutions to meet customers' needs and existing infrastructure is a significant competitive advantage.
"The industry standard for reporting statistics has traditionally been pages and pages of data that have to be combed through to get the overall numbers," states Eric Rabinovitz, Actsoft Vice President of Operations. "Comet Insight makes compiled data easy to snapshot so customers can quickly analyze their trends and see the return our solutions provide. Charts and graphs are immensely easier to interpret than multiple pages of data."
Comet Insight will be available to Comet Tracker and Comet Mobile Worker customers.
About Actsoft Inc.
Actsoft, Inc. is a leading developer of GPS based mobile applications for today's business with workers on the go. Their products include Comet EZ, Comet Tracker, Comet Mobile Worker, Advanced Wireless Forms and DashTrac. Actsoft provides enterprise solutions through all major wireless carriers to thousands of companies in the United States, Canada and many locations around the world. Founded in 1996, Actsoft, Inc. is headquartered in Tampa, Florida. Actsoft was the recipient of Frost & Sullivan's 2009 Customer Service Excellence Award and most recently voted one of Tampa Bay's Top Workplaces. For more information visit http://www.actsoft.com.
###