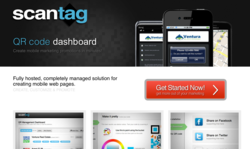 With ScanTag, a user can create, colorize, customize and track each QR code campaign.
Brevard, NC (PRWEB) June 29, 2011
From the creators of the popular JumpScan.com, a customized personal QR code generator, comes a fully featured QR management solution --ScanTag.com.
"We received a huge response on JumpScan.com," reports co-founder Phil Davis, "so much so that our users kept demanding more features, more functionality and more scalability." The site was featured in Mashable, LifeHacker, GigaOm and other tech-oriented sites. The results lead to a six month programming of the more robust ScanTag, designed to meet the needs of social media agencies, web designers, and interactive firms, who needed to create multiple QR codes for a wide range of clients with different marketing objectives.
"Our goal was to allow web and social media savvy professionals the greatest flexibility possible," states Mike McKearin, co-founder and lead designer of the site. "As someone with my own set of internet-based clients, I wanted to create a customizable solution - one that would allow me to serve their individual needs, from QR based real estate listings, to promotional contests and offers. With ScanTag you can do just that, create, colorize, customize and then track each QR code campaign."
Another vertical for ScanTag is the newspaper and print industry. "We can see these codes being added as another option for display ad sales, just like adding a second color, or a better position. By creating an account, it allows anyone in print media or the print industry to offer their clients a physical link to a pre-optimzied, mobile-friendly web page, with just a simple scan from any smart phone," Davis continues.
Several new media firms have been in contact with the JumpScan founders to create customized solutions for their QR needs. "We have a presence in two of the big box stores now, and continue to receive interest from new players entering the space," McKearin adds. To showcase the creative possibilities of QR codes, the founding trio created The Big Head Project, a way to scan QR codes to vote for a Twitter celebrity.
The challenge now, according to both Davis and McKearin, is for creatives and social media firms to generate great customer experiences. "With ScanTag, the technology is now in place. It's just a matter of creating compelling user experiences that warrant the customer's time to scan a code. It could be a great offer, discount, video, contest - anything that makes the potential buyer glad they took the time to scan the code."
For those interested in creating QR campaigns, the site offers a free 30 day trial to try out the various functions and features. "We're excited to see what creative uses subscribers come up with in promoting their products and services," McKearin states. "The ability to create nearly instant mobile web pages, accessible by any smart phone, opens the door to all types of intriguing possibilities."
Company Info: ScanTag™ is a service offering from JumpScan.com, a web based, custom QR service for use as a digital business card. JumpScan offices are located in downtown Brevard, North Carolina.
###