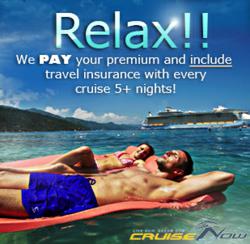 Cruise Insurance is something every passenger needs and our ability to offer it free of charge is a real benefit for our clients.
Charlotte, NC (PRWEB) June 30, 2011
Cruise Vacation Discount Company CruiseNow.com announced today a new unique opportunity for all cruise vacationers. Starting immediately every cruise reservation made through CruiseNow.com that is 5 nights or longer will receive free cruise travel insurance to protect the customer's investment.
This offer is extremely unique inside the cruise industry. Travel or trip insurance is one of the most important pieces of the cruise reservation and can sometimes cost consumers hundreds of additional dollars. Executives at CruiseNow.com have decided to offer this piece of the reservation completely free of charge for their customers. The offer officially starts on July 1st, but a soft launch roll out of the program is currently online and available to cruise customers. In addition this promotion is offered to all new and existing customers of CruiseNow.com and is available to both online reservations and reservations made using a CruiseNow Personal Cruise Guide.
The savings for consumers is actually quite strong. For example a cruise vacation costing $2500 for a 60 year old passenger would cost that customer an additional $162 in insurance premium. That premium is paid for by CruiseNow.com when booked with the company. "We are very excited to offer this value to our customers. Cruise Insurance is something every passenger needs and our ability to offer it free of charge is a real benefit for our clients", says John Keen CEO of CruiseNow.com.
The free cruise insurance promotion is offered on almost every cruise line represented by CruiseNow.com. The only stipulation is that the length of the cruise must be 5 nights or longer to qualify for the free trip insurance. Also the end date of the promotion has not yet been announced. Company officials are quiet about that, as they monitor its adoption and success. Early indication is that cruise passengers are taking notice and cruise reservations at CruiseNow.com are up dramatically during this soft launch.
About CruiseNow.com
The next generation in online cruise travel, CruiseNow.com is proud to bring cruising enthusiasts around the country a number of new, exciting technologies to find the best discount cruises possible. With its innovative CruiseText® and in-depth CruiseCast videos, finding the best deals is easy, and with the best prices and friendliest service around, your dream cruise starts here. Live Now. Dream Now. Cruise Now.
###