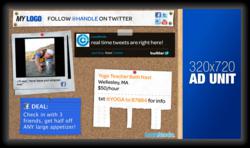 "Community Board is the perfect intersection of Local + Mobile + Social."
- Stephen Randall, CEO
Cambridge, MA (PRWEB) June 29, 2011
LocaModa today launched Community Board 1.0, a new place-based social media application that runs on any Digital Out-of-Home (DOOH) network and has been designed to enhance consumer engagement, venue marketing and advertising revenue.
Two premier brands have purchased media on Community Board for national campaigns running during Q3 and Q4 2011 in markets including health clubs, cafes and bars. Community Board will launch on six networks: Zoom Media & Marketing's Fitness and Social Networks, RMG Networks, Health Club Media Network, Reach Sports Marketing Group, and Panel Media & Marketing.
Graphically, Community Board 1.0 looks like a traditional community board and features the ability for consumers and venues to "pin" digital messages, photos and posters to venue screens, react with digital offers and local announcements, and leverage built-in ad units. Message types supported include Twitter, Foursquare, SMS, Email, RSS and Facebook. All messages have unique characteristics, for example, the mobile messages feature tear off slips that display being removed when they are redeemed.
Stephen Randall, CEO, LocaModa commented, "Community Board is the perfect intersection of Local + Mobile + Social. We've focused on simplifying how venues and agencies can leverage their social media assets in locations. This is important because with over 300 digital signage content management systems in the market, venues and agencies don't have the time or ability to worry about systems and infrastructure. Community Board represents an elegantly simple approach to cross channel engagement."
Like all LocaModa applications, Community Board is patented and supports a fully extensible and scalable architecture, with venue-safe real-time social media filters and moderation.
About LocaModa
LocaModa is a place-based social media company helping locations engage customers and brands engage audiences.
LocaModa uses social media as a way to build value for the world's leading digital place-based networks and brands. LocaModa's patented platform turns real-time social media into highly localized services and applications for digital place-based networks, venues, event organizers and advertisers. LocaModa enables networks reaching over 100,000,000 people every month in U.S. in over 15,000 high-traffic locations (for example in cafes, supermarkets, bars, quick-serve restaurants, colleges, stadiums and on digital billboards in Times Square and Las Vegas).
LocaModa is a privately held company headquartered in Cambridge, MA.
# # #