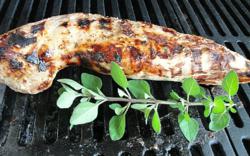 Grilling is casual and lends itself to easy entertaining---even if you're a novice.
Denver, CO (PRWEB) June 29, 2011
Grilling is the perfect choice for summer entertaining. Accomplished grillers know the secret to flavorful grilling comes from rubs, marinades, and sauces, but store-bought versions may contain gluten (a protein in wheat that's toxic for millions of people). Instead, it is very easy and economical to make your own, says Carol Fenster, a gluten-free cooking expert who blogs at CarolFensterCooks.
"The nice thing about grilling," says Fenster, who wrote 10 gluten-free cookbooks, including Gluten-Free 101," is that it is casual and lends itself to easy entertaining ---even if you're a novice. Rubs, marinades, and sauces effortlessly transform steaks, pork, chicken, or fish into a fabulous main dish that all your guests will enjoy, whether they are gluten-free or not.
But, first, what's the difference between rubs, marinades, and sauces?
[1] Rubs are a combination of dry spices, herbs, and sugars that are rubbed on the meat before cooking. Rubs are best on ribs, chicken, and steaks.
[2] Marinades are liquid and often acidic, with added herbs and spices for flavor. Meat is immersed in the marinade for a specific period of time to tenderize it and absorb flavor. Marinades can be used for steaks, chicken, pork, and fish but marinate chicken and fish for only 30 minutes or the marinade's acid will make the meat mushy. The marinade may be discarded or boiled to make a light sauce to serve on the cooked meat.
[3] Sauces (or mops) are often tomato or vinegar-based and dabbed or brushed on the meat during the final minutes of grilling and may also serve as a dip or sauce to serve with the meat after it's cooked. They can be used for all kinds of meat; sturdier cuts like beef and ribs can handle thick, heavy sauces while lighter sauces are best for chicken or fish.
When buying store-bought versions, read the label carefully. By law, the ingredient list must state "wheat" if it is used as an ingredient. How is wheat used? Rubs might contain wheat flour to prevent clumping. Marinades can contain soy sauce, which is often made with wheat (although there are gluten-free soy sauces available). Sauces may contain soy sauce for flavor or wheat flour to thicken the sauce so it sticks to the meat during cooking.
Fenster prefers to make her own rubs, marinades, and sauces so she has control over what's in them. She favors a boldly flavorful and very easy citrus-chipotle marinade for backyard grilling because it is versatile, works well with pork and chicken (but also with steaks or fish) and all the ingredients are naturally gluten-free. The recipe comes from her weekly online cookbook, GfreeCuisine, a weekly subscription-based service that offers gluten-free recipes and also provides a organized grocery list based on the recipes you choose for that week's menus.
Fenster likes to pair this entrée with an all-American menu of baked beans, coleslaw, and corn on the cob---all of which are naturally gluten-free. But in her article, "Get the Grill Going," in the summer issue of Gluten-Free Living magazine, she adds a quinoa tabbouleh and a pasta salad to this classic menu to get more whole grains into our diet and for added variety.
Pork Tenderloin in Citrus-Chipotle Marinade
Reprinted with permission from GfreeCuisine
½ teaspoon McCormick chipotle chile powder
2 whole garlic cloves, minced
½ cup orange juice
3 tablespoons lime juice
2 tablespoons red wine vinegar
1 teaspoon dried oregano
1 teaspoon ground cumin
1 teaspoon black pepper, or to taste
½ teaspoon salt, or to taste
2 small pork tenderloins
In a glass bowl or resealable plastic bag, whisk the ingredients together until smooth. Add the pork, cover tightly, and marinate pork tenderloin for 2 to 4 hours, turning once to make sure meat is immersed in marinade.
To cook, fire up the grill, remove the pork from the marinade, and cook until done, searing it on all sides for best flavor. Either discard the marinade or boil it for 5 minutes, then serve as a sauce drizzled over the cooked pork.
Serves 4; recipe can be doubled or tripled
###