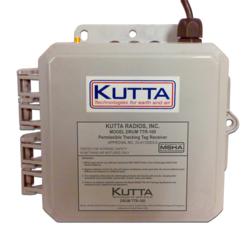 This new system greatly reduces the cost to mine operators installing redundant tracking systems in order to be compliant with the latest MSHA Program Policy Letter
Triadelphia, WV (PRWEB) June 29, 2011
Kutta Radios, Inc. (http://www.KuttaRadios.com) announced today that it received Part 23 MSHA certification for a new tracking system that revolutionizes tracking before, during, and after mine emergencies. The Kutta tracking system turns the metallic infrastructure in an underground mine into a large antenna that carries the tracking signal for miles throughout the mine.
This revolutionary new system is simple to install, and according to company officials, most installs can be completed in a day or two. The system also has the ability to interoperate with other tracking systems currently on the market, and the readers have self-contained batteries so no external power is required. "This new system greatly reduces the cost to mine operators installing redundant tracking systems in order to be compliant with the latest MSHA Program Policy Letter," commented Matt Savoca, Kutta's President.
Because Kutta's DRUM® Tracking System uses metallic mine infrastructure to transmit its signal, a rugged steel lifeline can be used as the communications backbone, greatly increasing the chances of survivability after an incident. Additionally, the tracking data will travel wherever the wire runs as well as wirelessly jump to other conductors nearby (e.g. pipes, tracks, cables), so it is very easy to create redundant tracking paths in other entries or up bore holes and shafts. It is also now very easy to track in hard to reach places such as bleeders.
The Kutta DRUM® Tracking System can be paired with the Kutta DRUM® Communication system to offer mines a complete, MSHA approved, MINER Act compliant communications and tracking solution.
Kutta Radios, Inc., a subsidiary of Kutta Technologies, Inc. designs and builds radios for the underground mining industry, first responders, and the US Army. For information on the DRUM® system, or to schedule a demonstration, e-mail info(at)KuttaRadios(dot)com, visit http://www.KuttaRadios.com, or call 1-866-574-9990.
# # #