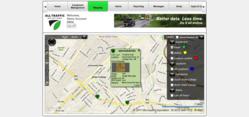 "Connectivity is now a standard feature of all our product families, including Radar Speed Displays and Variable Message Signs", says Scott Johnson, All Traffic Solutions' Vice President and Co-Founder.
State College, PA (PRWEB) June 30, 2011
All Traffic Solutions was recently honored by Axeda, the leading cloud platform provider for connected products and M2M applications, for building the most innovative solution over the past year. Scott Johnson, All Traffic Solutions' Vice President and Co-Founder, accepted the Best Product Innovation award from Axeda at their annual Connexion event for his part in successfully transforming the company from a hardware manufacturer to solution provider. Scott participated in the keynote address to the Connexion 2011 attendees and shared how the company's connected product initiative is enabling new business opportunities and ways of doing business while allowing customers to provide higher levels of public safety at reduced costs. Attendees also received a demonstration of the All Traffic Solutions' SmartApps interface that brings this all together as Scott shared details on how this next-generation wireless solution was implemented. "The capabilities that result from connecting our devices have opened up new revenue sources because we can deliver far more value to our customers. It is changing both how we design and support our products as well as how our customers integrate these products in their daily operations" explains Scott. He also says that "Once customers have a chance to experience the improvements in efficiency and effectiveness that are possible with our SmartApps, their expectations change forever." All Traffic Solutions has already changed the expectations of themselves by making 100% of their signs smart, connected devices. A generous retrofit program has also resulted in tremendous interest in upgrading older equipment, helping to ensure no customer is left behind.
About All Traffic Solutions
Located in State College, Pa., All Traffic Solutions is the traffic safety division of Intuitive Control Systems, LLC. Consistently recognized as a leading innovator in the traffic safety market for speed displays, message signs and imaging products, All Traffic Solutions is committed to developing solutions that leverage the latest technology for the management of traffic safety equipment and for the collection and aggregation of traffic-related data. In June 2010, All Traffic Solutions launched "smart signs," a web-based version of its product line that provides tremendous new operating efficiencies and reporting tools vital to decision making. Customers can now access and manage all their traffic calming hardware through a browser. The smart signs enable All Traffic Solutions to deliver groundbreaking levels of service and product capability. For more information, please visit http://www.alltrafficsolutions.com.
###