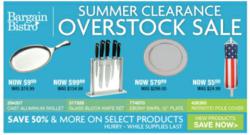 At the Bargain Bistro we offer popular products at practically unbeatable prices
St. Paul, MN (PRWEB) June 29, 2011
In order to stay competitive in a tough business, restaurant owners need to provide customers with quality food at competitive prices, impeccable service and a memorable, pleasant dining experience. This requires restaurant owners to have a reliable source for affordable restaurant supplies and equipment. To help fill this need, Superior Products offers "Bargain Bistro" - a rotating selection of affordable restaurant supplies.
"At the Bargain Bistro we offer popular products at practically unbeatable prices," said Bob Bland, Website Administrator. "Everything listed in the Bargain Bistro is currently in stock and will ship the next business day, so buyers get their merchandise as quickly as possible."
The Bargain Bistro selection is updated frequently, with special prices on high demand items. The current stock at Bargain Bistro includes discounted prices on china, bar glassware, pizza prep tables, restaurant range burners and more. Additions to the Bargain Bistro stock are often announced through emails and on the homepage of Superior Products.
Bob adds, "We may offer big ticket items like merchandisers, or kitchen supplies like cutlery and food pans. The selection changes frequently, so we encourage potential customers to come back and check it out often. And remember, we have limited quantities on hand, so order while supplies last to take advantage of these great deals!"
Customers interested in value added emails can sign up to receive these email updates from Superior Products, which sometimes include alerts when Bargain Bistro stock levels have been updated.
-- Superior Products is a commercial kitchen equipment supplier that offers solutions that deliver efficiency and value. As a trusted industry leader since 1935, our in-depth product knowledge makes our professionals valuable business partners.
###