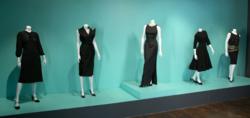 Los Angeles, CA (PRWEB) June 30, 2011
Fifty years ago, Audrey Hepburn charmed audiences as Holly Golightly in the film Breakfast at Tiffany's and the fashion world has never been the same. Hepburn's chic film wardrobe, including her iconic little black dress, was designed by couturier Hubert de Givenchy and went on to inspire countless designers. To celebrate the fiftieth anniversary of this beloved film, the fashion school and its Museum & Galleries in Los Angeles will display Givenchy's line-for-line recreation of the little black dress worn by Hepburn in Breakfast at Tiffany's.
Additional examples of LBDs by both fashion and costume designers such as Christian Dior, Karl Lagerfeld for Chanel, FIDM Alumna Monique Lhuillier, and others will be on display. The exhibit's opening was attended by FIDM Graduates Chan Luu and Kevan Hall, who have modern LBDs in the exhibition, and Laura Goldsmith, whose Alias LBD worn by Jennifer Garner is currently on display. The collection of 12 dresses is set against a Tiffany blue backdrop.
FIDM Costume Design Students will present their new looks for the Holly Golightly of 2012 and Fashion Design Students will display the latest interpretations of the epitome of chic. During the exhibition, a free Speaker Series will explore the role of the LBD in fashion and society. Admission is free to the public and the FIDM Museum & Galleries are open Tuesday through Sunday, from 10:00 a.m. to 4:00 p.m.
FIDM/Fashion Institute of Design & Merchandising is a co-educational, specialized, private college dedicated to educating students for the Fashion, Graphics, Interior Design, and Entertainment industries. Visit fidm.edu for more information.
###