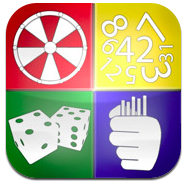 We want our customers to know from the onset that we are an interactive company that intends to pay them back at every turn, literally.
Troy, NY (PRWEB) June 30, 2011
Undecided is an app that contains six chance utilities, including dice, spinner, coin toss, drawing straws, number generator and rock, paper, scissors. The initial launch of this app contains both a free version and a .99 cent version. The paid app contains extra features that will give its customers the ability to pick any random number, helpful in picking lottery numbers, and get the mini-game rock, paper, scissors. In addition to this, Deadmans Productions will be updating the paid app with little add-ons that only paid customers will get.
Undecided is currently available in the Android Market for ANDROID devices and in the iTunes store for iOS devices.
"We are launching our first app without a name because we want our customers to know from the onset that we are an interactive company that intends to pay them back at every turn, literally," said Michael Ridley, CEO and Founder of Deadmans Productions. "With this first app alone we are initiating two contests in which the winners will be rewarded with monetary gift cards. We want to be known as the company that gives back - every step of the way."
Accompanying the contest that will allow the users of this app to create its name, another contest is being launched to further encourage its users to interact with Deadmans Productions.
"We are also calling upon all of our customers to upload an entertaining short video to Youtube demonstrating one of the very many useful ways that the app can be used," said Ridley. "We are looking for the 101 best ways to utilize "Undecided" - the funnier, the better." More information about Deadmans Productions, along with the specifics of both of these contests, can be found at http://www.deadmansproductions.com/apps/contest.
Deadmans Productions, LLC plans to develop entertainment-based apps, particularly for the iOS and Android platforms. Since becoming an LLC, Mr. Ridley has recruited some admirable talent to join his venture as partners. He also has the support of the Rensselaer Polytechnic Institute (RPI) Incubator, giving Deadmans Productions access to the vast resources that RPI has to offer. The member managers of his team include:
● Jenna Eden Leder, Creative Director, is a game artist and designer with extensive experience in developing games for the PC, web and social media. Ms. Leder holds a degree in Interactive Design & Game Development from the Savannah College of Art & Design.
● Zeke Dean, Director of Engineering, is a graduate of RPI with a degree in both information technology and management. Mr. Dean served as a project leader for two years at the RPI Center for Open Source Software.
● Dan Vitale, Chief Operations Officer, is a graduate of the University at Albany with a degree in Information Science and a minor in Business. Mr. Vitale is currently pursuing dual masters degrees in Information Science (M.S.I.S.), concentrating in Information Systems and Technology, and Business (M.B.A.) with a concentration in Information Technology Management at the University at Albany.
"I am honored and privileged to be working with an incredibly talented team of artists and engineers who are helping me bring Deadmans to life in the mobile development market," Ridley said. "We have formed a team that I believe is going to propel this small startup into a successful company that is unique, risky, fun, and above all else, generous. As we begin this journey I cannot totally predict our road map, but I can say that I look forward to the ride."
Contact: Michael Ridley
518-244-8400 (office), 518-242-9640 (cell)
122 First Street, Troy, NY 12180
####