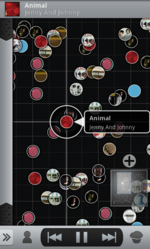 Pushing music visualisation apps to the next level
Berlin, Germany (PRWEB) June 29, 2011
The new mufin player is unique in its class and offers an incomparably interactive platform for music lovers to enjoy their tracks on Android devices. After analyzing the songs, mufin player knows the sound of each track, making it possible for the program to arrange them in a fresh and easy-to-use, multi-touch interface. This latest version is the perfect application for music lovers looking for new and simple ways to manage and listen to music on their Android devices.
In addition to innovative arrangement and numerous improvements, this new version lets users quickly create sound-based playlists with a single tap. Advanced search functionality integrated in the visualized music library, allows users to easily find all types of tracks, including those recently added. With this new version of mufin the user has the ideal tools at hand to find tracks that best reflect their current mood, regardless of library size.
Keep your music library in sync
With the mufin player for PC, a powerful and free iTunes alternative from http://www.mufin.com, the user can store his favourite tracks- even home made ones- to the cloud with one click and then access them from anywhere. This way the music is synced on multiple Android devices: music lovers focus on what's important - navigating, exploring and listening to music.
The new Android application is now available for download from http://www.mufin.com or directly from the Android Market.
Note to Editors:
A complete set of press material is available on our Press Page at http://www.mufin.com/press/android.html
About mufin:
mufin's music recommendation and recognition technologies are based on sound analysis as well as an hybrid approach and enable the user to discover new music that corresponds to their musical preferences. Using the technology of mufin, companies can offer their clients the opportunity to find new music and to experience their own digital music collections in a new way using automatic playlist generation, metadata self-repair and visual music navigation. mufin's music recommendation and recognition technologies may be used anyplace that music is heard: on PC, on the web or on mobile phones. mufin GmbH is a full subsidiary of MAGIX AG in Berlin.
All product names in this document are registered trademarks of respective owners and serve only to identify products.
###