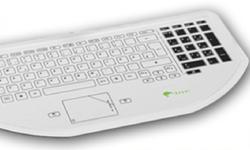 Jens Kautzor, sales director at H+K says: "We are very excited about this partnership. With WetKeys we have found a reliable and well respected online distributor and we are looking forward to a successful and long-term business relationship."
Peachtree City, GA (PRWEB) June 30, 2011
Hoffmann + Krippner (http://www.hoffmann-krippner.com) is now partnering with WetKeys Washable Keyboards (http://www.wetkeys.com), a leading online-retailer of washable keyboards, to supply their keywi CleanBoard® medical-grade keyboards to hospitals, medical offices and facilities observing strict hygiene regulations. Jens Kautzor, Sales Director at H+K says: "We are very excited about this partnership. With WetKeys we have found a reliable and well respected online distributor and we are looking forward to a successful and long-term business relationship." Hoffmann + Krippner will be exhibiting their CleanBoard® as well as customizable medical control units at the APIC 2011 in Baltimore, MD on June 27 – 29, 2011 (Booth # 303).
As PC keyboards are known to be breeding grounds for germs and viruses, hazardous conditions arise for both patients and staff due to possible cross contamination. Typical computer keyboards are difficult to disinfect and commonly used keyboard covers become porous after frequent cleaning. The CleanBoard® features a high-end non-porous film surface, resistant to disinfection liquids and alcohol. It is splash proof due to its fully sealed surface according to IP 65 / NEMA 4X. A disinfection reminder is integrated into the CleanBoard® via LED lights, monitoring recommended intervals between cleaning to ensuring sanitary operation. It is not necessary to disconnect the keyboard from any medical devices or remove it from the current operating location for routine cleaning, as all keys can be disabled by simply pressing one key.
The CleanBoard® is equipped with an integrated mousepad and number block, compatible with 10 finger typing. As application requirements may differ, a fully sealed Mini-CleanBoard® and external CleanMouse® are available as well. All products are Plug & Play enabled via a USB connector, simplifying installation procedures. Both keyboard models and mouse are available for immediate purchase at http://www.wetkeys.com/cleanboard.
For more information about the keywi CleanBoard®, please visit keywi-usa.com or clean-keyboards.com.
About HOFFMANN + KRIPPNER, INC.
Hoffmann + Krippner Inc is headquartered in Germany and has offices around the world, including the United States. The company has a work force of over 200, developing and producing innovative input solutions for customers in the most diverse sectors, ranging from the electronics industry, medical technology, engineering and aviation to military technology. Hoffmann + Krippner is a market leader in complex input systems. Innovation and high quality have formed the basic philosophy since the company was established in 1972. As a medium-sized and family-owned, second-generation company, innovative product development and the extensive know-how of the employees allow them to develop and produce comprehensive input device systems, including housing, electronics and software for a wide range of clients. The company strengths benefit customers through a broad range of innovative top-level engineering. A long-standing expertise as a leading manufacturer of customized input devices and keyboards in Europe results in high-quality solutions for customers, world-wide.
About WetKeys®
WetKeys Washable Keyboards (WetKeys.com) is a leading manufacturer and online retailer of fully sealed, easy to disinfect computer keyboards and mice. Its mission is protecting health and safety by providing affordable, easy-to-sanitize data input devices used throughout healthcare facilities and food processing plants to halt the spread of disease. WetKeys.com offers the widest selection of medical keyboards, industrial keyboards and computer mice designed to withstand heavy-duty use in hospitals, offices, labs, and food safety applications. Maintain a healthier workplace, lower the cost of healthcare and extend the life of your IT equipment when you buy a waterproof keyboard and mouse from Wetkeys.com. WetKeys is a member of the Advanced Technology Development Center of Georgia Tech with products featured as 'Top10 Tech Gifts' on CNBC, NBC and Fox News.
# # #