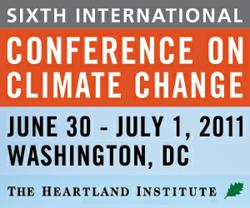 The theme of ICCC-6, 'Restoring the Scientific Method,' highlights the reliance of claims of scientific certainty and predictions of climate catastrophes on post-normal science, which substitutes claims of consensus for the scientific method.
Washington, DC (PRWEB) June 29, 2011
Sen. James Inhofe, R-OK, the leading critic of global warming alarmism in Congress, will kick off The Heartland Institute's sixth International Conference on Climate Change (ICCC-6) at 8:30 a.m. on Thursday, June 30, with a breakfast keynote address.
(Watch the Live Stream of Heartland's climate conference.)
Inhofe will be joined at the Marriott Wardman Park in Washington, DC by scores of state and federal elected officials, more than 50 think tank cosponsors, and some 300 scientists, economists, and policy experts who dispute the claim that "the science is settled" on the causes, consequences, or policy implications of climate change.
Past conferences in this series took place in New York City, Chicago, Washington, DC and Sydney, Australia and have attracted more than 2,000 participants from 20 countries. The proceedings have been covered by ABC, CBS, NBC, Fox News, the BBC, The New York Times, The Washington Post, Le Monde, and most other leading media outlets.
ICCC-6 will feature presentations by more than two dozen scientists, economists, and elected officials commenting on the latest research on the causes, consequences, and policy implications of climate change. The line-up of speakers includes:

Timothy Ball, Ph.D., environmental consultant and former climatology professor at the University of Winnipeg, Manitoba, Canada. He was recently sued for libel by Michael Mann, a prominent figure in the Climategate scandal.
Barry Brill, OBE, New Zealand barrister and solicitor. He is a former minister of science & technology and minister of energy, and is currently chairman of the New Zealand Climate Science Coalition.
Alan Carlin, Ph.D., former senior analyst and manager at the U.S. Environmental Protection Agency. In March 2009 he authored a highly critical internal review of EPA's draft report on endangerment from greenhouse gases, which led him to become a whistle-blower.
Robert "Bob" Carter, Hon. FRSNZ, research professor at James Cook University (Queensland, Australia), where he was head of the School of Earth Sciences between 1981 and 1999. He is author of Climate: The Counter Consensus.
Scott Denning, Ph.D., professor of atmospheric science at Colorado State University. Denning believes in man-caused global warming and spoke last year at the Fourth International Conference on Climate Change in Chicago.
Christopher Horner, J.D., senior fellow at the Competitive Enterprise Institute and author of Red Hot Lies: How Global Warming Alarmists Use Threats, Fraud and Deception to Keep You Misinformed.
Craig Idso, Ph.D., chairman of the Center for the Study of Carbon Dioxide and Global Change and coauthor of Climate Change Reconsidered: The 2009 Report of the Nongovernmental International Panel on Climate Change.
Robert O. Mendelsohn, Ph.D., Edwin Weyerhaeuser Davis Professor of Forest Policy & Professor of Economics at Yale University and author of the forthcoming book Climate Change and Agriculture: An Economic Analysis of Global Impacts, Adaptation, and Distributional Effects.
Patrick J. Michaels, Ph.D., distinguished senior fellow in the School of Public Policy at George Mason University and a senior fellow in environmental policy at the Cato Institute. He is a past president of the American Association of State Climatologists and was program chair for the Committee on Applied Climatology of the American Meteorological Society and editor of the new book Climate Coup: Global Warming's Invasion of Our Government and Our Lives.
Marc Morano, executive editor and chief correspondent for ClimateDepot.com, a global warming and eco-news center founded in 2009. Morano served for three years as a senior advisor, speechwriter, and climate researcher for the U.S. Senate Environment and Public Works Committee.
Nicola Scafetta, Ph.D., research scientist in the Duke University Physics Department. His research interests are in theoretical and applied statistics and nonlinear models of complex processes. He has published peer-reviewed papers in journals covering a wide variety of disciplines, including astronomy, biology, climatology, economics, and physics.
Harrison Schmitt, Ph.D., is a former NASA astronaut and U.S. Senator. He is the twelfth and last person to set foot on the Moon. He served as chair of the NASA Advisory Council and is currently adjunct professor of engineering physics at the University of Wisconsin - Madison. He is a field geologist who received a Ph.D. from Harvard University.
David Schnare, Ph.D., J.D., senior fellow for energy and the environment for the Thomas Jefferson Institute for Public Policy. He is an attorney and scientist with 32 years of federal and private-sector experience consulting on and litigating local, state, federal, and international environmental legislative, regulatory, risk management, and free-market environmentalism issues.
S. Fred Singer, Ph.D., founder and president of the Science and Environmental Policy Project, coauthor of Unstoppable Global Warming: Every 1500 Years and Climate Change Reconsidered, and professor emeritus of environmental sciences at the University of Virginia.
Willie Soon, Ph.D., astrophysicist and a geoscientist at the Solar, Stellar and Planetary Sciences Division of the Harvard-Smithsonian Center for Astrophysics.
Roy W. Spencer, Ph.D., principal research scientist at the University of Alabama in Huntsville where he directs a variety of climate research projects. He is the author of several books, including most recently, The Great Global Warming Blunder.
James M. Taylor, J.D., senior fellow for environment policy at The Heartland Institute and managing editor of its Environment & Climate News. He writes Climate Change Weekly, a Heartland e-newsletter, and a weekly column on climate change issues for Forbes.com.
David G. Tuerck, Ph.D., executive director of the Beacon Hill Institute, and professor and chairman of the Suffolk University Department of Economics.
Anthony Watts, a 25-year broadcast meteorology veteran and currently chief meteorologist for KPAY-AM radio. He hosts the popular climate change blog Wattsupwiththat.com and a Web site at surfacestations.org devoted to photographing and documenting the quality of weather stations across the U.S.
The theme of ICCC-6, "Restoring the Scientific Method," highlights the reliance of claims of scientific certainty and predictions of climate catastrophes on post-normal science, which substitutes claims of consensus for the scientific method. Abandoning the scientific method led to the Climategate scandal and the errors and abuses of peer review by the Intergovernmental Panel on Climate Change (IPCC).
For additional information, go to climateconference.heartland.org or call 312/377-4000. To arrange interviews with conference speakers, contact Director of Communications Jim Lakely at jlakely(at)heartland.org or 312/731-9364, or Media Specialist Tammy Nash at tnash@heartland.org or 312/731-9043. Register for media credentials here.
Get Twitter updates of the conference, and tweet your own coverage, by following @HeartlandInst and using the hashtag #ICCC6.
The Heartland Institute is a 27-year-old national nonprofit organization with offices in Chicago, Illinois; Washington, DC; Tallahassee, Florida; Austin, Texas; and Columbus, Ohio. Its mission is to discover, develop, and promote free-market solutions to social and economic problems.
###