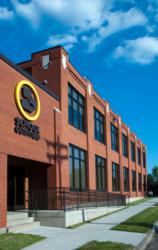 Cincinnati, OH (PRWEB) June 29, 2011
School Outfitters, a leading supplier of educational furniture and equipment, today announced that is has been recognized as one of the Top Workplaces in Greater Cincinnati by the Cincinnati Enquirer.
School Outfitters was selected a Top Workplace based on the results of a voluntary, confidential survey of employees by national surveying firm Workplace Dynamics. School Outfitters employees ranked managers as the company's highest strength, believing managers sincerely listen, provide learning and growth and make their jobs easier.
The Enquirer's Top Workplaces special edition also recognized School Outfitters for offering a variety of benefits to keep employees motivated, happy and engaged. The featured benefits include free on-site, 15-minute chair massages to all employees every other week, free gym memberships and bimonthly free lunches during busy season.
"We are honored to have been selected as one of the Top Workplaces in the region," said Tom Brennan, president. "The vote of confidence that our employees have expressed indicates that School Outfitters continues to recognize their importance and contributions to the overall success of the company. We feel strongly that in order to provide exceptional value to our customers, we must continue to create a dynamic, challenging work environment where employees can grow while still maintaining a healthy work-life balance."
This year, the Enquirer Media Top Workplaces project invited businesses with at least 50 employees in the region to take part in the surveys. In all, nearly 49,000 employees at 130 companies were surveyed before 75 rose to the top. Assessments focused on company direction, communication and work execution, career opportunity for training and progression, work conditions, strength of managerial team and pay and benefits.
About School Outfitters
School Outfitters, a rapidly growing web-based direct retailer, works to be an educator's best source for low prices on quality school furniture and equipment. Since 1998, teachers and administrators facing tight budgets and short deadlines have found School Outfitters to be an invaluable resource for furnishing their schools. Offering a complete selection of nearly 30,000 products representing 250 manufacturers, convenient online shopping and expert customer support, we make it easy to create productive learning environments. For more information about School Outfitters, visit http://www.schooloutfitters.com.
###