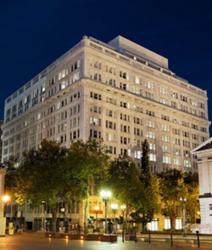 "As we continue to grow our inventory of luxury boutique hotels, we expect to see more Sage Hospitality hotels at the top of lists."
- Walter Isenberg
Denver, CO (PRWEB) June 29, 2011
The summer travel season is off to a great start for Sage Hospitality, which has seen three properties counted among the "Best Hotels in the USA 2011" by U.S. News & World Report. The magazine's exclusive list of 86 top hotels was whittled down from 850 addresses across the country to include three Sage Hospitality hot spots: the Nines in Portland, Oregon; Renaissance Blackstone Chicago Hotel; and JW Marriott Denver Cherry Creek.
"We are thrilled to see three of our properties getting the recognition they deserve from U.S. News & World Report," said Walter Isenberg, President and CEO of Sage Hospitality. "As we continue to grow our inventory of luxury boutique hotels, we expect to see more Sage Hospitality hotels at the top of lists."
U.S. News & World Report selected its top hotels based on findings from a variety of sources, with the focus only on 4- and 5-star properties. The magazine looked at accolades from AAA and Forbes Travel Guide, as well as placement on roundups such as Condé Nast Traveler's "Hot List" and Travel + Leisure's "500 Best". The editors also took the word of travel experts including Frommer's and Fodor's and factored in scores from user-based websites like TripAdvisor and Hotels.com.
Only those hotels that were consistently rated highly by experts and guests made the cut for "Best Hotels in the USA 2011" in their cities, with those that scored in the top 10% earning a spot on the list, including:
The Nines – #1 out of 181 hotels in Portland
JW Marriot Denver Cherry Creek – #4 out of 232 hotels in Denver
Renaissance Blackstone Chicago Hotel – #11 out of 50 hotels in Chicago
Other Sage Hospitality properties to make the magazine's initial round of 850 hotels were The Oxford Hotel and The Westin Westminster in Denver; Glenn Hotel in Atlanta; and Il Lugano in Ft. Lauderdale.
About Sage Hospitality
Founded in 1984, Sage Hospitality has strategically grown into one of the largest privately held hotel management and development companies in the nation operating a variety of large, full-service hotels and extended stay and select-service properties. Sage Hospitality's comprehensive management portfolio includes major international brands for Marriott, Starwood, Hilton and IHG as well as the independent boutique hotels. Sage Hospitality has further differentiated with the creation of the Sage Restaurant Group, which has created and is managing 10 unique restaurant concepts including the acclaimed Mercat a la Planxa restaurant in Chicago. For more information, please visit http://www.sagehospitality.com. Find them at Facebook.com/SageHospitality and Twitter @SageHotels.
# # #