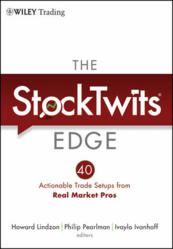 "I follow and trust all the contributors mentioned in the book and have learned so much in such a short time – I believe any investor can too," said Lindzon.
Hoboken, NJ (PRWEB) June 29, 2011
StockTwits has emerged as the leading real-time social idea network for the investing community, providing its more than 100,000 community members worldwide a place to exchange ideas, receive real-time market insights, discover mind-liked people, leverage a community, build a publishing and research brand, and help monetize their work. For The StockTwits Edge: 40 Actionable Trade Setups from Real Market Pros (Wiley; July 2011; $65.00; 978-1-118-02905-3; StockTwits Co-Founder and CEO Howard Lindzon, Executive Editor Philip Pearlman, and Stocktwits50.com writer Ivaylo Ivanhoff, invited 46 of the community members who love, live, and breathe the markets to write about their favorite setup—a combination of factors that need to align in time and space in order to produce a buy or sell signal.
Each trader presents a setup in detail as well as the approach for finding new ideas and managing risk. They explain which factors are important and how they use the setup to the trade successfully on a daily basis.
"I follow and trust all the contributors mentioned in the book and have learned so much in such a short time – I believe any investor can too," said Lindzon. "The great part about this book is the fact that it's an introduction to amazing investors and traders that you can actually follow and interact with everyday at StockTwits.com."
The book covers a wide range of topics that can help improve trading endeavors, including:

Trend following
Value investing
Day trading
Swing trading
Options trading
Forex trading
The art of trading
Contributors range from well-known professionals to individual traders, from those who have been trading for years to those who have been in the business a short time; but they all share an amazing focus and belief that if you can master one thing well in the markets, you can succeed.
While there are many factors involved in successful trading and investing, the ability to identify profitable situations is paramount. The StockTwits Edge arms traders with ideas that help them make the most of their time in today's markets.
ABOUT THE AUTHORS
Howard Lindzon is co-founder and CEO of StockTwits®, a real-time, social idea network for the investing community and creator of the $(TICKER) tag for the widest syndication of investment information. StockTwits was recently named "one of the top 10 most innovative companies in web" by Fast Company and one of the "50 best websites" by Time magazine. Lindzon has more than 20 years experience in the financial community acting in both an entrepreneurial and investing capacity; and is the Managing Partner of Social Leverage, a holding company that invests in early stage web businesses. Lindzon has tremendous insight into new media and is a very active angel investor in the financial and internet business sectors, invested and involved with over 30 companies. He created Wallstrip, and over 400 original web video shows, which was purchased by CBS Corp. in 2007. He has made many successful angel investments, including rent.com, golfnow.com, Lifelock, and Internet Brands. Lindzon's new media and internet business investments include Limos.com, Blogtalkradio.com, Buddy Media, TubeMogul, Bit.ly, and Tweetdeck.
Philip Pearlman is the Executive Editor of StockTwits and an investor in the company. He is a partner at Social Leverage, LLC. Pearlman is obsessed with the psychosocial aspects of user experience and online community development. He ran a hedge fund that focused on behavioral strategies and currently runs a private account. Pearlman loves to buy fear and sell euphoria.
Ivaylo Ivanhoff has been trading stocks and derivatives for his own account on U.S. and European markets since 2003. He participated in the development of a proprietary algorithm that ranks momentum stocks. Ivanhoff writes daily market commentary on Stocktwits50.com.
# # #