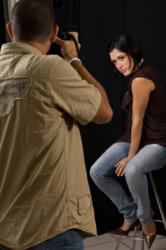 Muslin Backdrops are extremely affordable and will provide considerable return for the investment.
Niles, MI (PRWEB) June 30, 2011
The muslin backdrop has been around since the early days of portrait photography and the first silent films. Through this long history of use, cotton muslin remains the material of choice for use in photography, film making and theatre sets for many professionals. Now, thanks to PhotographicBackdrop.com, even amateur photographers can shoot like the pros.
This lightweight, loosely-woven cotton fabric is popular as a backdrop due to both its portability and its wide range of application. Natural, un-dyed muslin is often used for a backdrop, but it is also easily dyed or painted and can be an integrated design feature for virtually any setting.
In addition to the convenience of a muslin backdrop, the flexibility of the material is a boon to any professional photographer's or filmmaker's work. Muslin backdrops may be in solid colors, dyed to complement a scene or set, color washed, painted or printed with artistic or photographic scenes of either imaginary or realistic settings.
Muslin backdrops are not only applicable in every portrait situation from family portraits to wedding to school photographs, they are often used in a studio setting for cinema.
One of the most appreciated characteristics of muslin is that, as a loosely-woven natural fiber, it interacts with light in a pleasing manner, creating lighting effects that are otherwise difficult to achieve. Cotton muslin fabric richly accepts dyes and paints. At the same time, cotton muslin fabric absorbs and reflects light, both natural light and studio light, with a result that is flattering to the subject or subjects. For example, it has the effect of both enriching and smoothing skin tones.
Whether choosing a backdrop that adds a surrealistic and dreamy tone to the setting or preferring a backdrop to create a realistic scene, professionals are always pleased with the results of using muslin backdrops, and more than pleased with their pricing.
PhotographicBackdrop.com, an online retailer of high quality photography backdrops, offers Muslin Backdrops in sizes 10'x12' or 10'x24' and are available in a variety of finishes that will suit just about any photo shoot. Given their wide range of usage, Muslin Backdrops are extremely affordable and will provide considerable return for the investment.
# # #