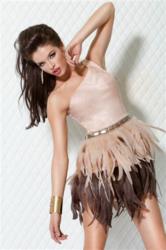 New York, NY (PRWEB) June 29, 2011
Hey girls—summer is officially here. This means that it's time to let the warm beach weather reign in. But just remember to protect that beautiful and youthful skin with a resilient SPF. While working on that sun-kissed glow, don't forget that homecoming is just a couple of months away. Logically this seems like a long distance away, but when adding dress shopping and all the other preparations into the mix, time is actually ticking. Luckily, Jovani Fashions has just released their Homecoming Dress Collection for 2011 in effort to relieve girls of this major summer stress.
The long-time dress designer has vamped-up the look of this year's Collection, which now features homecoming dresses in a variety of hem-lengths and styles. The recurring theme behind the new line—lots of meticulous and extravagant details. The Collection's main designers have reaffirmed their intention for "girls to feel confident and fierce" when they wear the brand's long homecoming gowns or cocktail dresses. "We hope that it [the dresses] will empower girls and bring out their inner-diva."
The homecoming dance is known to be one of the first major events of the new school year, which means young women across the country will be searching for that magical dress to make an unforgettable statement. Jovani understands just how vital it is to start the new school year off on the right foot, and there's no better way to do it than with any of their show-stopping special occasion dresses. So it's wise not to leave the dress search for the last minute, and make good use of all that spare time this summer.
Also inspiring the craze for Jovani dresses is their ever-growing popularity among Hollywood's youngest and brightest stars. On and off of the red carpet, A-lister's such as the Kardashian sisters, Katy Perry, Selena Gomez, Taylor Swift, and not to mention, finalists on this past season of American Idol, have all been spotted wearing the designer's super-embellished long and short dresses. It's safe to say that girls across the nation may take a cue, or two, from these fabulous celeb sightings when embarking on their homecoming dress search this year.
Company
Jovani is a family-owned fashion house that designs and manufactures elegant women's evening attire. From prom dresses, wedding gowns, cocktail and homecoming dresses, not to mention red carpet couture, Jovani has a collection for every formal need. As an innovator in women's evening wear, Jovani's special occasion dresses are both fashion-forward and timeless. The eye-catching styles are unique and versatile, and are a favorite among Hollywood's young elite. On the red carpet and inside the pages of high-fashion magazines, Jovani dresses make a glamorous statement wherever they go.
Written by: Lianne Gourji
Contact: Nazy Rafaeil
Phone: (212) 279-0222 Ext. 181
# # #