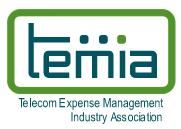 …making telecom departments green while cutting expenses, is a competitive issue. Learn strategies and practical advice in this webinar to optimize inefficient processes and secure data on mobile assets.
Plainfield, IL (PRWEB) June 29, 2011
The Telecom Expense Management Industry Association (TEMIA), the authoritative voice for Telecom Expense Management TEM and Wireless Expense Management WEM, and Mobile Device Management MDM Solutions Providers is offering a free webinar: How to Make Your Telecom Green While Cutting Expenses. Many companies are becoming more committed to being green and energy innovation. Now, making your telecom green while cutting expenses, is a competitive issue.
TEMIA wants managers to think about TEM WEM and MDM as a way to support the environment and save money. This webinar will help organizations learn how to:

Dramatically reduce their carbon footprint
Improve management of telecom services
Secure data on mobile assets
Save money by optimizing inefficient processes
Leo Berz, director of professional services for telecom at Advantage IQ said, "despite, crippling increases in energy costs, internal politics and other obstacles make it difficult for IT departments to implement a sustainable program to reduce energy consumption and minimize their carbon footprint." As a recipient of the EPA Energy Star award for the past 7 years, Advantage IQ is committed to helping our clients reduce their carbon footprint. In this webinar, Advantage IQ will offer its unique perspective with strategies and practical advice on ways to dramatically reduce energy expenses and make their IT and Telecom department green," added Berz.
"With the number of mobile devices in the enterprise growing, and the rate for upgrading these devices accelerating, companies need to think about how they will manage retirement and disposal," stated Blaine Smith, director of business development at Greenstream International. He added, "data security concerns and opportunities to get a financial return, for end-of-life devices have led companies to adopt formal programs to manage the full lifecycle of these assets including procurement and recycling of smartphones and other wireless devices."
Suman Dutta, president of Revolve Mobile added, "mobile devices are small; they travel everywhere with users and they break easily. Many firms recycle mobile devices, and many promise to remove data on the devices. But the problem enterprise CIOs have is being completely confident that all of their devices are getting to the recycler and that all the data is actually wiped." Dutta added, "that is why Revolve Mobile has developed tools to wipe smartphones at clients' sites. It is also why we carefully track every device to its final disposition – ensuring that corporate data can never fall through the cracks."
As managers commit to making their company green and energy innovation, this issue is becoming a competitive issue. Register today for TEMIA's free webinar on, How to Make Your Telecom Green While Cutting Expenses. Attendees of this webinar will learn how enterprises can:

Make their telecom program better for the environment
Calculate the positive budget impact of "green programs"
Understand the difference between certified vendors and others
Learn from case studies of how companies make their programs green
Register today to attend this webinar. Don't fall behind others that are implementing these strategies.
About TEMIA
The largest Telecom Expense Management (TEM) service providers founded TEMIA, the Telecom Expense Management Industry Association, in 2006. Since that time, TEMIA has grown to 39 members with international corporate headquarters managing over $36 billion of telecom and data spend.
TEMIA's mission is to raise awareness and knowledge of the values and benefits of TEM, WEM, and MDM solutions, to improve the quality and value of TEM solutions through the development and promotion of open industry standards, and industry knowledge among TEM Solutions Providers, business partners, telecom service providers, and enterprise clients.
###