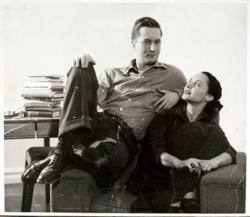 Monroe, CT (PRWEB) June 30, 2011
Furniture, artwork and decorative accessories from the estate of Pulitzer Prize winning author William Styron will be sold at auction July 17th at Fairfield Auction in Monroe, Connecticut. Early in his career Styron was often described an the heir to Faulkner and Hemingway. He created a his own legacy with the critically acclaimed novels "The Confessions of Nat Turner," "Lie Down in Darkness" and "Sophie's Choice." That work was later made into a film which earned Meryl Streep an Academy Award for Best Actress in 1982.
Styron moved to Roxbury, Connecticut in 1954. Over the following five decades he entertained presidents, authors, musicians and actors at his 19th century Rucum Road farmhouse. His Tiffany floor lamp, Federal tall clock, Eric Hoglund chandelier and an assortment of fine Continental furniture are expected to be among the top lots July 17th.
Aside from the Styron estate the sale will include paintings by Guy Wiggins and Leon Richet as well as a drawing by Diego Rivera. A 1985 Mercedes 380SL convertible, a collection of 18th century Delft ceramics and a Steinway grand piano are also expected to find enthusiastic bidders.
Fairfield Auction is located at 707 Main Street, Monroe, Connecticut and can be contacted at (203) 880-5200 or online at http://www.fairfieldauction.com.
###