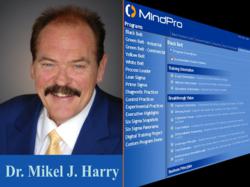 This incredible opportunity provides the Six Sigma student access to 15 training programs including Black Belt and Green Belt Certification.
Scottsdale, AZ (PRWEB) June 29, 2011
Since Dr. Harry spawned the Six Sigma movement nearly 25 years ago, it has become a recognized industry standard and used by many of the world's top corporations to drive business improvements through Six Sigma Black Belt and Green Belt projects. Dr. Harry now seeks to bring the richness of Six Sigma to every professional that wants to harness its power and create beneficial change for their organizations, as well as themselves.
On a personal level, many find they simply can't afford the high cost of a Black Belt or Green Belt Certification. On an enterprise level, organizations often have more internal applicants than openings. Either way, far too many talented professionals are missing out on the many benefits associated with a highly credible Six Sigma credential.
In light of the economic times and in response to this industry-wide problem, Dr. Harry directed his staff to package all of his online Six Sigma training programs and on-the-job support tools into MindPro -- a proprietary web-based learning management and application system. This limited-time opportunity includes his highly acclaimed Six Sigma Black Belt and Green Belt Certification programs. Now, virtually everyone can have the opportunity to learn from the Master of Six Sigma and enjoy the many benefits. Learn what people are saying about Dr. Harry and MindPro.
Anyone interested in pursuing this limited-time opportunity or becoming a MindPro Affiliate can learn more by visiting the MindPro website or by contacting Connie.Jannuzi(at)ss-mi(dot)com (phone: 480-515-0890).
###