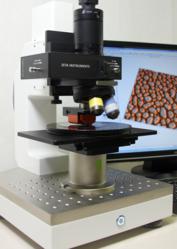 The combined package offers the unique capabilities of each technique while maintaining the high resolution of the AFM in a single, easy-to-use & compact platform.
Phoenix, AZ (PRWEB) June 29, 2011
Nanoscience Instruments announces an integrated 3D optical microscope and atomic force microscope (AFM) system. The new system combines a compact Nanosurf LensAFM with an advanced Zeta Instruments optical profiler. This unique pairing provides an extremely wide range of metrology capabilities, unmatched by any other instrument.
The LensAFM builds on Nanosurf's long history of offering compact and easy-to-use AFMs. The AFM is specifically designed to mount directly onto the Zeta microscope system, providing full optical access through the instrument and a clear view of the AFM cantilever positioned on the sample. By mounting the AFM directly to the microscope's turret, users can quickly change from true-color 3D optical measurements to high-resolution AFM imaging. The AFM extends the capabilities of the Zeta microscope system by providing nm lateral resolution and sub-nm height resolution, which is not possible by optical techniques alone.
The Zeta-20 is a fully integrated optical profiler that provides 3D imaging and metrology capability in a robust and cost effective package. Based on proprietary ZDot™ technology, the Zeta-20 can resolve surface features with small geometries such as roughness on textured wafers. A unique optical design enables inspection of transparent substrates, as well as thin films, and a broadband, compact dual-LED light source ensures true color images. The Zeta-20's unique multi-surface imaging capability enables measurement of enclosed microfluidic devices. Large steps, high roughness, deep channels, and other high aspect ratio features can also be imaged.
Nanoscience Instruments' expertise in AFM and surface metrology has been key to providing and supporting this unique package. "We are excited to combine these two innovative products from our key suppliers," commented Mark Flowers, Nanoscience co-founder. "We have been very pleased with the performance of the LensAFM on the Zeta-20 microscope. The combined system offers the unique capabilities of each technique, while maintaining the high resolution of the AFM, in a single, easy-to-use and compact platform."
Ben Garland, sales manager at Zeta Instruments, stated "This integrated package exemplifies the complementary nature of the Zeta Instruments Optical Profilers with other measurement techniques like AFM." An example of how such an instrument might be truly beneficial is analysis of transparent thin films. The AFM can obtain very high resolution and roughness measurements on the thin film, whereas the Zeta-20 can analyze the surface beneath the film.
More information about this unique configuration can be found on the Nanoscience Instruments website at http://www.nanoscience.com/zetafm or by calling Nanoscience Instruments at +1-480-940-3940 or (toll free) 888-777-5573.
About Nanoscience Instruments
Nanoscience Instruments provides hundreds of products and services for nanoscience and supports research and engineering at universities, government laboratories, and industrial R&D facilities around the world. Product offerings include atomic force microscopes, 3D optical profilometers, scanning electron microscopes, and accessories for these and other high-resolution microscopy techniques. Nanoscience offers a broad line of consumables and fabrication devices that includes AFM probes, CNT synthesis devices, chemicals for surface modification, STM supplies and teaching materials & samples. More information can be found at nanoscience.com.
# # #