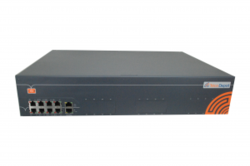 Our open source PBX solution has been installed successfully at hotels, resorts and lodges all over the world, and is making a world of difference for them with respect to cost-savings and overall productivity and performance.
Bay Shore, NY (PRWEB) June 29, 2011
TelcoDepot is a leading supplier of VoIP phone systems, Response Point phones, hosted PBX services, business telephone system solutions, conference phone systems, business VoIP service, video surveillance equipment, VoIP gateways, telephony products and phone system support services to small businesses in the USA. The company is now making waves as it successfully penetrates the global hospitality industry with its Asterisk-based PBX solutions.
The TelcoDepot PMS (Property Management System)-Interfaced Asterisk-based PBX solution is really a breakthrough for the hospitality industry because of the setbacks faced by hotels, motels, resorts, spas, casinos and other facilities on account of expensive proprietary PBX systems. The TelcoDepot PMS-bundled Asterisk-based TD2000/3000 IP-PBX phone system is an open source cost-saving, feature-rich telephony solution that has been successfully installed at hotels, lodges and resorts in the US, UK, Canada, Germany, South Africa, Mexico, Switzerland, Uruguay, The Dominican Republic, Austria, Greece, Belgium, The Netherlands, Czech Republic and other destinations. Telco Depot is poised to become the leading supplier of open source PMS Integrated PBX solutions that provide cost savings and other advantages for hospitality firms in the USA and globally.
The dual problems of aging proprietary equipment and multiple analog phone extensions, as well as the fact that these establishments must cut costs while expanding and improving guest communication services creates the necessity for a solution that is open-source, sophisticated, and a revenue generator for hospitality establishments. The TelcoDepot solution consists of an industry leading PMS interface software, Asterisk PBX, IP Phone and SoftPhone, and is equipped with a MICROS-Fidelio certified Asterisk-based interface by PBillX, based on Elastix FreePBX (compatible with TrixBox, interoperability testing certified, and implemented worldwide in a number of establishments), that demonstrates amazing advantages and benefits when compared with Proprietary PBX systems including being an open-source solution that is cheaper by at least 50% for establishments with over 200 extensions.
The TelcoDepot solution is also based on an Open IP System that does not require license fees, and the Asterisk-based PBX matches the features that are available on market leading proprietary PBX systems like Mitel. TelcoDepot also provides an Asterisk-based Complete PBX Concierge standalone software that handles guest check-ins, guest phone billing, room maid service and other guest/PBX management functions.
The benefits of a PBX system that saves costs for hotel businesses, while providing an integrated PMS and hospitality software simply cannot be overemphasized; there is clearly a problem when you have proprietary PBX systems that are expensive to acquire and deploy, and require the installation of multiple analog phone extensions at an additional cost per head. Combine this with costly proprietary PMS/Hospitality software, and you have a very expensive ensemble that can cause significant financial setbacks for hotel businesses annually. The Telco Depot PMS-Integrated Asterisk-based TD2000/3000 IP-PBX system with a standalone complete PBX Concierge software solves the problem of sourcing phone system solutions that drastically cut costs, while providing greater flexibility and control for hotel businesses. A truly first-class open source solution, the system combines the very best in open source PMS and PBX Interface software to deliver amazing productivity and performance that is above and beyond what is feasible with a proprietary system. This is clearly why more and more hospitality businesses are switching to open source, and why the TelcoDepot solution is being deployed in a rapidly increasing number of establishments all over the globe.
The TelcoDepot TD2000/3000 IP-PBX solution supports a number of communication features including: User-defined extensions, Extension groups, Auto Attendants, Voicemail boxes, Voicemail-to-email, Fax-to-Email, support for the Fring Application (iPhone/Android), Call Monitoring, Call Recording, Integrated paging over IP telephone speakers, Ring groups, Custom messages, Music on hold, and so much more. Also supported are a number of competitive Asterisk-supported hospitality features including: Integrated Wakeup, Integrated Browser-based Operator Panel, Front Desk Check-in/Check-out, Guest name applied to room at check-in, Vacant status applied at check-out, opening of phones at check-in, closing of phones at check-out, enabling guest voicemail upon check-in, purging of guest voice-messages at check-out, built-in room state system, built-in mini-bar soft phone, and an integrated call accounting system.
Quoting a TelcoDepot representative about the cost-saving PMS-Integrated Hotel PBX solution; "When you combine a top-notch PMS from a leading provider like MICROS-Fidelio with a certified Asterisk-based Interface by PBillX and a TD2000/3000 IP-PBX System from TelcoDepot, what you get is a first-class open source PBX solution that is designed to cut costs dramatically, and provide flexibility and a number of advantages for Hotels when compared to proprietary PBX systems. Our open source PBX solution has been installed successfully at hotels, resorts and lodges all over the world, and is making a world of difference for them with respect to cost-savings and overall productivity and performance. We are positioning to become the leading provider of open-source PBX systems for hotels and other hospitality establishments in the USA and around the world, and we are optimistic that this will be the case in the not-too-distant future because establishments around the world are becoming aware of the amazing benefits that our open source solution presents for their overall business success."
Compared to proprietary PBX systems, the TelcoDepot open source solution is matchless on flexibility, features and cost savings, and presents a breakthrough solution for Hotels and other hospitality establishments looking to get ahead by overcoming the obstacles presented by the huge acquisition and deployment costs of proprietary PBX systems in their various facilities. With a host of advanced communication and hospitality features, and a cost advantage that is hard to beat, the TelcoDepot TD2000/3000 PMS-Integrated open source PBX solution is clearly a preferred choice for the competitive hospitality establishment.
About Telco Depot
Telco Depot is a leading supplier of quality business telephone systems, hosted PBX services, business VoIP services, VoIP phones, phone headset equipment, video surveillance systems, voice & data cabling solutions, conference phone solutions and Microsoft Response Point Systems. The company's top priority is to help its clients make informed decisions based on their specific small business phone system needs by providing experience and expertise and guiding them in selecting the best phone systems for their businesses. Telco Depot ensures that their phone systems are fully scalable, affordable priced, and provide the highest value for their clients.
###