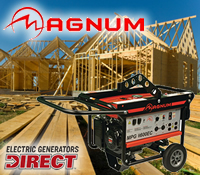 Magnum generators are designed and built to meet extreme conditions and challenges
Bolingbrook, IL (PRWEB) June 29, 2011
Today Electric Generators Direct announced it is expanding its online product offering with the inclusion of Magnum portable generators.
"Magnum generators are designed and built to meet extreme conditions and challenges," said Jim Baugher, resident expert for ElectricGenerators Direct . "They're used in combat zones by the military, so they can ably power any type of electrical need you have around the house or job-site."
With the addition of the Magnum portable generator line, Electric Generators Direct now carries more than 40 professional-grade portable generator models and a wide selection of generator accessories.
In addition to Magnum portable generators, Electric Generators Direct also offers a complete line of offers Briggs & Stratton, offers Generac, Honewell, Kohler and Yamaha generators, as well as a wide selection of transfer switches and generator accessories.
Power Equipment Direct operates nine niche online superstores. In addition to ElectricGeneratorsDirect.com, the Bolingbrook, IL-based company operates AirCompressorsDirect.com, PressureWashersDirect.com, SnowBlowersDirect.com, MowersDirect.com, WaterPumpsDirect.com, SumpPumpsDirect.com, ChainSawsDirect.com and LogSplittersDirect.com
###